Published on May 03 2013
// Reviews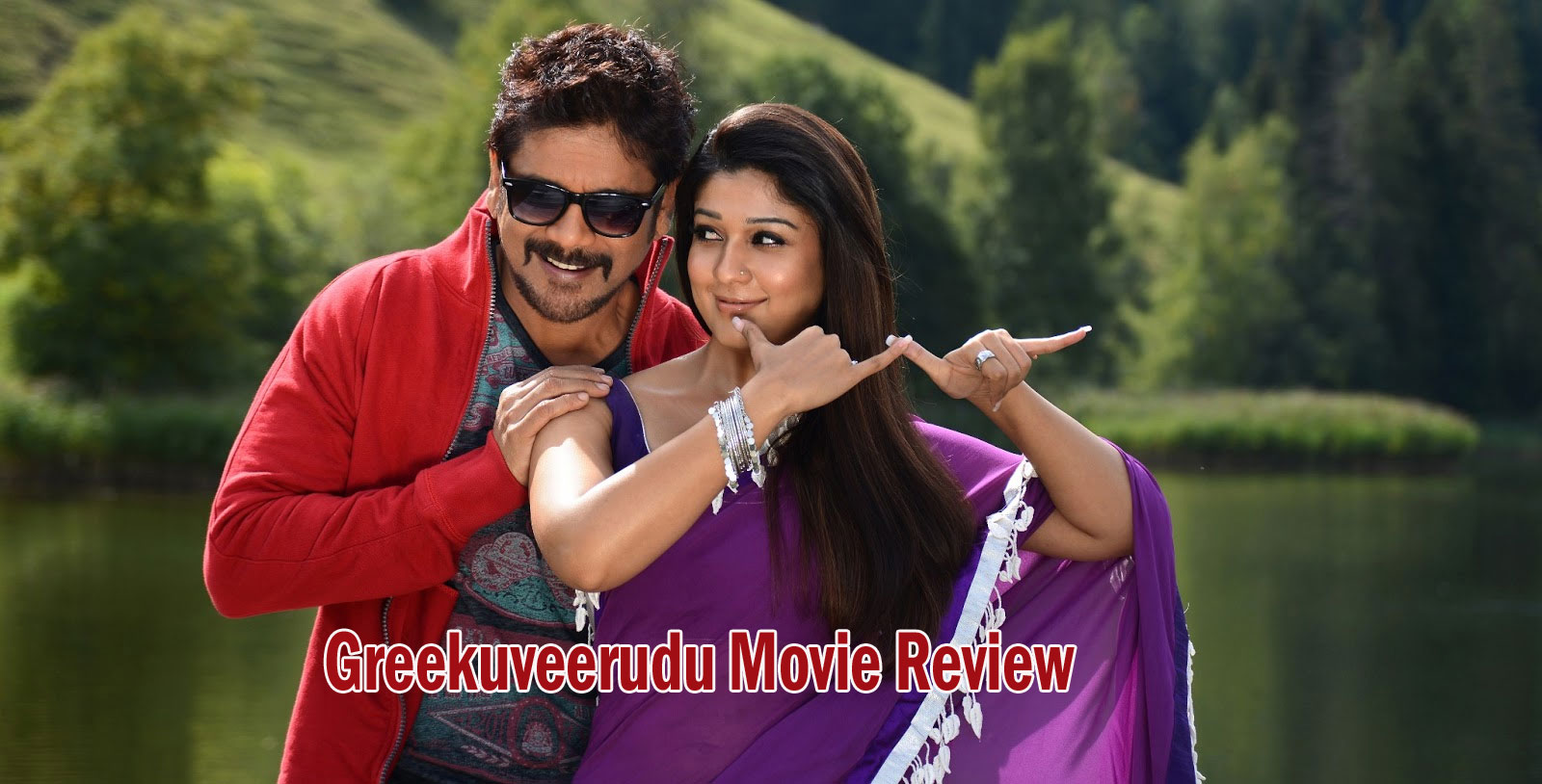 Greekuveerudu Movie Review
Rating: 2.25/5.0
Banner: Kamakshi Movies
Producer: D.Shiva Prasad Reddy
Director: Dasarath
Music: S S Thaman
Casting: Nagarjuna, Nayantara, Meera Chopra, K Vishwanath, Brahmanandam, M S Narayana, Kota Srinivas Rao, Sharath Babu, Ashish Vidyarthi.  Ali, Venu Madav, Raghu Babu, Vennela Kishore, Nagi Needu, Tagubothu Ramesh, Kovai Sarala and others
Story
Chandu (Nagarjuna) runs an event management company in USA. He values money and doesn't believe in love or human relations. Sandhya ( Nayantara), a doctor committed to service. She works with the charitable organization 'Make a Wish'. She believes in sentiments, relations and love.
Chandu travels to India to meet his grandparents and relatives for the first time to address and an unprecedented event occurred in USA. On his way to India, Chandu meets Sandhya who has conflicting views about life, get acquainted to each other. After meeting Sandhya and relatives in India, Chandu realises the value of human relations and importance of love.
What made Chandu to change his views on relations and love forms the crux of the story.
Performances:
Nagarjuna's all efforts for his new styling and physique is clearly visible on screen. He looked concinving as a playboy even at the age of 53. In the emotional scenes, he delivers a composed performance. Surprisingly, he puts lot of efforts in dances after a long time. Nayantara looked very aged some how. Her costumes and makeup even ma her look older. Meera Chopra made a comeback to Telugu after a long time and gets a little role. She is okay.
Brahmanandham (especially in the second half) is good as always and shouldered the responsibility of second half. Thagubothu Ramesh managed some good laughs. K.Vishwanth, Ashish Vidyardhi and Kota Srinivasa Rao is at their usual self. Rest of them are okay.
Technical
Dasarath once again chose a story which tells the human relations and love. The film's story resembles director Dasarath's earlier film 'Mr. Perfect', in which the hero and heroine have divergent views. Ultimately they unite when the hero changes his views. Though the subject is good, director failed to handle the script to perfection. The scenes are half baked or end abruptly. He failed to bring the intensity in emotional scenes. The screenplay of the movie is big draw back and boring at times. The movie runs on slow pace and ends on sluggish note.
S S Thman tried to be different with this movie. He showed variation in background score and music when compared to his other movies. Anil Bhandari cinematography is rich. Marthand K Venkatesh could have done better job on editing. Dialogues by Dasarath are good. There is nothing to say about Choreography or Action.
Final talk
It is a below average movie.