Published on Jun 18 2012
// Reviews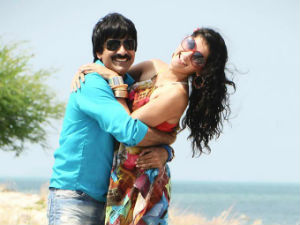 Mass Maharaja Ravi Teja always woos the front-benchers. This time, the actor has made an attempt to attract the family audiences with his latest movie Daruvu, for which director Siva has penned an excellent socio-fantasy subject.
Old Yama (Satyanararyana) decides to give up his job and makes his son (Prabhu) a king of Yamalokam. But Chitragupta (MS Narayana) vexed up with the new king and decides to take revenge on him. In Bhulokam, Bullet Raja (Ravi Teja) and his friend Khaja (Vennela Kishore) form a gang. Accidentally, Bullet Raja falls in love with Swetha (Tapsee). Meanwhile, a local goon Harbour Babu (Sushant Singh) also loses his heart to Swetha, and both clash for Swetha.
Though Bullet Raja (Ravi Teja) has a full life of 100 years, Chitragupta, who is looking for a right opportunity, ensures that he is killed. Bullet Raja after reaching Yamaloka comes to know that he was unjustly killed although he was entitled 100 years. His body gets burnt in Bhuloka, by the time Yamadharma Raju realises his mistake. So he introduces Bullet Raja into the body of home minister Rajendra, look-alike of Bullet Raja. What happens next forms the rest of the story.
Performance: Ravi Teja has shouldered the responsibility to run the show singlehandedly. He wins the viewers heart with his energy, typical body language and expressions, comedy timings and punch dialogues. Tapsee has filled the glamour slot.
All the other artistes have done complete justice to their roles. The sentiment scenes between Ravi Teja and Jayasudha remind us the films like Amma, Nanna, O Tamila Ammayi. Prabhu and MS Narayana tickle the funny bones as Yama and Chitragupta. Brahmanandam is also a good source of comedy.
Technical: Vijay Antony's songs or the background music are the major highlight. Vijay Gopi has penned excellent one-liners for Ravi Teja and viewers enjoy his punch dialogues which suit his body language. Vetrivel's cinematography is adequate and Gauthamraju's editing too suit well with the camera work. Though the film has the story which has come up many times on the Telugu silver screen, the screenplay penned by the director himself, and the narration of the film, make the audience enjoy the movie to the full extent. He has used Ravi Teja's energy and his comedy timings completely. The production value of Sivaramakrishna is awesome.
Remarks: Daruvu is just like any other movie of Ravi Teja. It looks like an old film narrated in a new way, an old wine in a new bottle of course. Like the old wine, which would always be very tasty as many years you keep in a bottle, in the same way Ravi Teja's comedy abilities would always make the audiences happy.
Cast: Ravi Teja, Tapsee, Bramanandam, Prabhu, Sayaji Shinde, Raghubabu, Avinash, Sushant Singh, Kaikala Satyanarayana, MS Narayana, Vennela Kishore, Sana, Jayasudha
Credits: Art – AS Prakash; Cinematography – Vetrivel; Editing – Gauthamraju; Screenplay and Script assistance – Adinarayana; Dialogues – Vijay Gopi, Anil Ravipudi; Music – Vijay Antony; Presents – Srimati Sri Nagamuniswari; Producer – Burugupalli Sivaramakrishna; Story, Screenplay, Direction – Siva
Banner: Sri Venkateswara Entertainments Ltd