Published on Nov 30 2012
// Reviews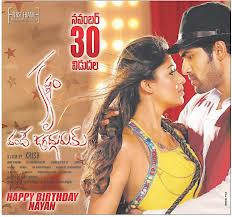 Rating: 3.25/5
Cast: Rana Daggubati,Nayanatara,Kota Srinivasa Rao,Bramanandam,Raghu Babu,Posani Krishna
Director: Krish
Music Director: Mani Sharma
Producer: Saibabu Jagarlamudi Y Rajeev Reddy
Genre: Action, Drama, Fantasy
Censor : U/A
Release Date: November 30, 2012
Story:
Story : Subhramanyam ( Kota Srinivas Rao) is a Thespian on Stage in the backdrop of our Telugu Pride Surabhi Naataka Company , His Grandson Rana Daggubati as BTech Babu who also plays stage shows at times but his heart is not into it as his aim and ambition is to go to US to pursue his dream and Career. Upon his Grandpa's request he agrees to perform one last time  , He Visits Bellary for a Theater Festival and get entangled with the circumstances  and the harsh realities and the quality of life the citizens are experiencing there ruled by the  Mining Mafia and how he gets out of it and saves the poor and downtrodden people from the Mafia makes the rest of the Story.
Krish has a sense of social responsibility , his feelings in his heart come out in the form of films , This is his way of showcasing his concern for the society. His taste in dialogues intrigues you and your thoughts and provokes them, In a times while every one is concentrating on one liner's punch dialogues, it was quite refreshing for ears to hear such dialogues, If you can pickup the dialogues you will thoroughly enjoy them.
Kudos to Krish for Extracting Acting Juice's from Actors, he did the same with Naresh and Shravanand in Gamyam,  with Manchu Manoj and Allu Arjun in Vedam and again here with Rana.  Krish definitely is a Tough Task master similar to Jakanna SS Rajamouli . His movie making showcases his strength and indepth knowledge in each and every aspect of the Film Making.
Performances :
Rana Daggubati has an actor and he is the perfect choice for this kind of movie. His Diction and Dialogue delivery is amazing and you will find a new Rana here. Nayanatara is as usual with her decent performance.she looks glamorous.Others like Posani Krishna Murali, Milind Gunaji, Murali Sharma, LB Sriram, Brahmanandam and Raghu Babu are also good in their respective roles.Venkatesh, Sameera Reddy will also entertain you with their guest appearances.
 Technical Performances:
Like every previous movie of his, Krish had got a philosophical touch to every frame in the movie. He had worked on every minute detail of the movie and took care the movie is crisp. Mani Sharma's music and background score are major assets for the movie. The BGM had enhances the effect and intensity of the action sequences and emotional scenes. Dialogues are outstanding as in every Krish movie. Editing is neat.
Positives :-
Rana Daggubati delivers a much improved performance
Mani Sharma's background score
Excellent dialogues
Venkatesh's guest appearance in a song
Negatives :-
Dragging scenes in the start of the movie
Few drama sequences
Unrealistic Pre Climax Episode
Misplacement of songs
Slow narration in second half
Final Verdict :-
Every movie of Krish is high on emotion and philosphy, Krishnam Vande Jagadgurum is no different. But he always failed to score off commercially. However, he had attempted to add masala elements with out disturbing the story teller in him and is successful partly. We will have to see how masses embrace it!