Published on Jun 18 2012
// Reviews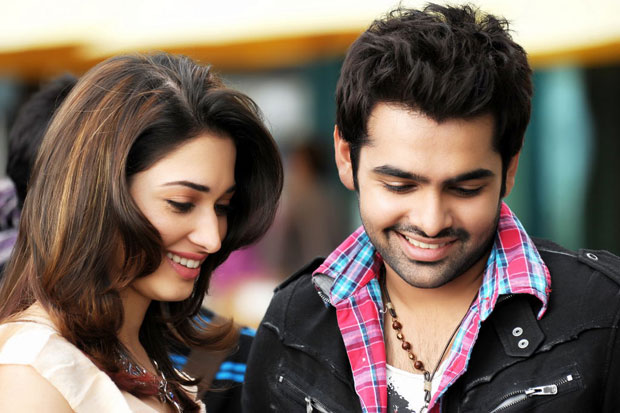 Energetic Star Ram's much anticipated and eagerly awaited film of this summer Endukante Premanta released today. The film, which was mentioned to be a romantic, action, family drama, stood up to the expectations on many scores and is a slow feel good movie which might go well with youth (like Ye Maya Chesave). If only this feel good film could have been presented in a better screenplay, it would have been a sure shot winner for both Ram and Karunakaran.
Ram is a happy-go-lucky person. He is not bothered about anything and doesn't take life seriously. He is sent to Paris (wonderful presentation of Paris Vineyards is very appreciable) on business purpose and very soon realizes that his father (Siyaji Shinde) has sent him there to learn the lessons of life.
The Indian Ambassador (Suman) to France is very possessive and protective about his daughter Sravanthi (Tamanna). Her father takes care of her very well, but she doesn't enjoy much freedom. She is a girl who wants to enjoy life to the fullest. She chances upon Ram and seeks his help to slip away from her father's security and fly to India. The film takes an interesting turn. Why did Sravanthi choose Ram to escape? What is a link between the two? The story shifts to India and how all's well that ends well happens is the crux of the entire film.
Performance: The tag of Energetic Star that appears in the title cards has been completely justified by Ram. He carries the film with ease and his performance is more matured. His dances are a delight to watch and he has given his 100% for this film. Tamanna is apt in the role and looks, as usual, beautiful. Sijayi Shinde is good, while it is Anu Hassan and Rishi of A Film who have taken the major credit for their roles. Surprising as well as disappointing was Kona Venkat, as his performance was bad.
Technical: Cinematography by Andrew is very impressive. His portrayal of Paris and its Vineyards are extraordinary and has never been captured by others on Indian screen. Editing by Venkateshwara Rao is apt and nothing extraordinary to talk about. The major disappointment comes from the music department, though background score at few places is a standout. Dialogues are catchy. The film, which has twists on two occasions, failed to thrill the audience due to its slow pace narration. The first half of the film is interesting and we are promised of a wonderful fare ahead, but somewhere the director ends up churning a stale second half and dull climax, which could seriously affect the prospects of the film.
Remarks: After Kandareega, Ram had established himself as an energetic hero and with lots of promise Endukante Premanta was developed. But with slow narrative style and boring moments, this film may not match up to his earlier hit. If only the youngsters enjoy the slow pace then it is sure to be another hit for Ram and Karunakaran.
Cast: Ram, Tamanna, Sayaji Shinde, Kona Venkat, Suman and others
Director: A Karunakaran
Producer: Sravanthi Ravikishore
Written by A Karunakaran
Music: GV Prakash Kumar
Cinematography: I Andrew
Editing: Kotagiri Venkateswara Rao
Banner: Sri Sravanthi Movies