Published on Jun 18 2012
// Reviews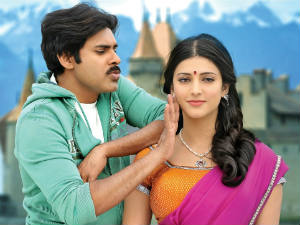 Director Harish Shankar shot to fame with his film Mirapakay with Ravi Teja as hero. Now, Pawan Kalyan had chosen him for the remake of Salman Khan's Dabangg. He asked the director to rewrite the entire script to suit the Telugu nativity with good humour by retaining the main theme. As a whole, the film has become a visual treat to the audience in general and Pawan fans in particular.
Story: Naidu (Nagineedu) marries a girl (Suhasini) who already has a son named Venkataratnam Naidu (Pawan Kalyan). Venkata likes the character of Gabbar Singh (Sholay) and is fond of being called a Gabbar Singh. He becomes a daring and dashing police officer. He is posted to his hometown Kondaveedu, which is facing many troubles from Siddhappa Naidu (Abhimanyu Singh), who is just a goon and political leader.
While Gabbar Singh starts confronting Siddhappa, he comes across Bhagyalakshmi (Shruti Hassan) and loses his heart to her. Later, things get murky as several emotions come to the fore like jealousy, hatred and greed. Will Gabbar Singh crush the atrocities with an iron hand being a police officer? What happens to Gabbar Singh's love? What price does Gabbar Singh pay in his rivalry with Siddhappa? Answers to all these questions lies in the rest of story.
Performance: Pawan Kalyan has given an extraordinary performance. His comedy timing is perfect. He has delivered several punch dialogues with his inimitable mannerism. He is good in both action and dance sequences. Shruti Hassan looks gorgeous in the film. Her performance as an innocent village belle is excellent. Though she has a very small role to play, she has used the available space to show her acting prowess.
Ali, Brahmanandam and Ranjit Kumar tickle the funny bones of audiences. Combination scenes of Ali and Pawan Kalyan have been shot well. Other artistes like Suhasini, Nagineedu, Rao Ramesh, Abhimanyu Singh have done justice to their respective roles. Gayatri (Happy Days fame) has played a different role in this film and will definitely score many points. The director has failed to make use of Kota's acting abilities.
Technical: Devi Sri Prasad has not only scored extraordinary tunes for the film but also has given fantastic background score. All songs have been shot well and are a visual feast to the audiences.
Jayanan Vincent's cinematography is perfect and Gauthamraju's editing is apt. Director Harish Shankar has penned a perfect script, screenplay and direction to the entire film. Though the narration of the film in the second half appears to be slow, the director some how manages to take the film forward without any boring scenes. Another minus point is, the director could not keep the necessary emotional depth while reaching climax.
Verdict: Undoubtedly Pawan Kalyan fans will enjoy the film as he delights his fans with comedy and punchy dialogues. Moreover, many of the action scenes would attract the front benchers. The film would definitely go well with 'B' and 'C' centres. The film would definitely fill the coffers of the producer.
Cast: Pawan Kalyan, Shruti Hassan, Tanikella Bharani, Abhimanyu Singh, Rao Ramesh, Ajay, Kota Srinivasa Rao, Brahmanandam, Ali, Nagineedu, Suhasini, Gayatri (Happy Days fame), Malaika Arora and others.
Credits: Music – Devisri Prasad; Camera – Jayanan Vincent; Editing – Gautham Raju; Action – Ram-Laxman; Art – Brahma Kadali; Presents – Sivababu Bandla; Producer – Bandla Ganesh; Screenplay and direction – Harish Shankar
Banner: Parameswara Art Productions