Film: Yeto Vellipoyindi Manasu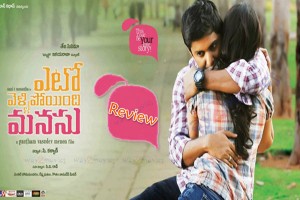 Rating:3/5
Starring: Nani,Samantha,Krishnudu, Vidhyu, Anupama
Director: Gautham Menon
Producer: Bellamkonda Suresh
Banner: Photon Kathaas ,RS Infotainment
Music: IlayarajaAce director Gautham Menon has come up with yet another romantic entertainer with Yeto Vellipoyindhi Manasu (YVM), which released as Neethaane En Ponvasantham (NEP) in Tamil. The director has once again roped in the hit pair of Nani and Samantha for the lead roles
Gautam Menon, who is known for his candy floss romance, once again weaves a script that targets youngsters. His key triumph in the production is the finesse in direction.
STORY:
Gautham Menon, Nani & Samantha's Yeto Vellipoyindi Manasu Telugu Movie – YVM is a Romantic film written and directed by Gautham Menon. Nani and Samantha are playing leading roles.The story is a Romantic love story. Here Nani acted as Varun Krishna, Samantha acted as Nithya. It is a story of two school mates. They are basically friends, who fall in love with each other. Here love story that takes place between an 8years old Varun Krishna and the same age girl Nithya. From varun childhood, he starts loving that girl. They will turn in to teenage they still love eachother. It is a some sort of love at first sight.
However they break up over certain matters and then patch up during their college days. Now comes to any love story for that matter possessiveness. Nithya gets too possessive about Varun and bugs him up to the core only to know how much Varun loves her. What will happen next? Will they break up or overcome this possessiveness forms the rest of the story…
PERFORMANCES:
Samantha, as Nithya, is impressive too. She looks beautiful in her college attire. She is understated and expressed well with eyes. Once again, singer Chinmayi's voice perfectly suits Samantha's character and elevates her performance.
Nani has come up with a realistic and convincing performance in the movie. But he keeps getting overshadowed by Samantha. More than a glamorous actor, Nani is a good performer and this film proves it again.
Krishnudu's role (as Nani's sidekick) is a tad similar to his earlier role as Naga Chaitanya's friend in Ye Maya Chesave. He hardly has any lengthy role to play, but warrants a mention for evoking laughter.Rest of the actors also did well.
TECHNICALITIES:
Gautham Menon's direction is simply superb.Cinematography was extraordinary. MS Prabhu's camera work captures various locations beautifully.Some of the frames are almost picture-perfect. Gautham Menon has succeeded in showcasing Samantha extremely beautifully. But as a director, he just scores average marks with this film. A tight screenplay and better dialogues would have helped the film a lot.
Maestro Ilayaraja's poetic and romantic touch also helps the film. In fact, the background score which is mellifluous and symphonic in many parts emphasizes the mood of romance in the movie.
ANALYSIS:
Gautham Menon's direction is good. It is always in different format compare to anyone. Screenplay, story and narration are that always create wonders. He truly deserves the entire credit for his tight screenplay and awesome narration. Best thing about Yeto Vellipoindi Manasu.Soundtrack composed by Ilaiyaraaja. Nani as usual does the role in his style. Samantha is gorgeous in the movie and she pulled off three distinct roles with much ease and her expressions are fabulous. She looked apt as a school girl too. Krishnudu as Nani's friend was fine.
Plus Points:
Samantha is the Real Star, Her performance in the dying stages of the movie
Nani's performance and his dialogues are super
Ilayaraja's background score and songs give the film a very romantic mood.
Krishnudu's comedy track
Gautham Menon's direction is simply superb
Minus Points:
Slow narration towards the interval.
Placement of the songs could have been a lot better.
Anthony's editing should have been crispier
There are a few snail-paced and uninteresting scenes
Extremely dull moments
Lack of entertainment
Final Word: Go and Watch Yeto Vellipoyindi Manasu, it is a romantic love story everyone must watch.