Published on Oct 26 2013
// Reviews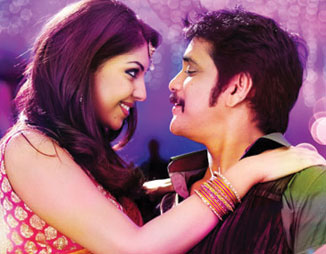 Cast: Nagarjuna, Richa, Sonu Sood
Director: Veerabhadram Chowdary
Rating: Two stars
Apart from his good looks and commendable acting prowess, the one good thing about Nagarjuna, unlike most other T-town actors, is that he tries his best not to get stereotyped. After doing films like 'Shirdi Sai', 'Dhamarukam' and 'Greeku Veerudu', he now steps into the shoes of a mafia don. Well, Nag does a neat job in picking up different roles in a row. But what he can't escape is getting stereotypes in his films. His latest offing 'Bhai' is a good case study of how a good actor like Nagarjuna can be wasted in an age-old story with equally old-styled screenplay.
Bhai (Nag) works for mafia baron David (Ashish Vidyarthi) in Hong Kong. On a mission to kill an undercover cop, Bhai comes down to Hyderabad. There, he unexpectedly meets (of course, with a different identity) his family which had abandoned him during his childhood for the 'wrong reasons'. How Bhai shields his family from his counterparts forms most of the film's plot.
The movie banks on three things- Nagarjuna, comedy and family sentiment. The first part appears to be a drag, with back-to-back songs interrupting the narration. The heavy dosage of sentiment in the latter half puts you off and as the movie progresses, it turns predictable too. Richa often utters a dialogue in the film that says she needs to be updated and after watching her performance, one totally agree with the dialogue. Her puzzling expressions add up to her poorly-etched role. Sonu Sood is good as usual.
What save the film are Nag's trademark performance, witty dialogues, beautiful cinematography and picturesque locales. The comedy track of Brahmanandam is good and reasonable. Contrary to his previous films, Brahmi is not at the receiving end, at least, until his role comes to an end.
On the whole, the film is a one-time watch for families who have not been to the cinemas much of late. For regular movie-goers though, 'Bhai' is just another passable film.
trailer and box-office collection report
The movie was released in 575 screens in Andhra Pradesh alone. The break-up in various cities in Andhra Pradesh is 195 screens in Nizam, 110 screens in Ceeded, 60 screens in Krishna, 55 screens in Vizag, 45 in Guntur, 45 in East, 35 screens in West and 30 screens in Nellore.
In Karnataka, the movie was released in 75 screens and 45 in Tamil Nadu.
The story of the movie revolves around Vijay who is a key aid of a an international don by name David, played by Ashish Vidyarthi. The don suffers a setback when a cop begins to kill important members of his gang.
The don assigns the job of tracing the cop to Vijay.  Bhai finds out certain surprising facts about the undercover cop.
The next story has a lot of twists and turns.  Nagarjuna plays three roles in the movie.  A don's right hand man, a tapori and a person who is in search of his family.
The movie is expected to collect at least Rs. 5-7 crores on its 1st day at the box office and around Rs. 15-18 crores in its 1st week of release.
The complete details of the box-office collections will be updated here. Stay tuned.
| | | |
| --- | --- | --- |
| Luxury Villas Bangalore | Vakil En Casa. Ready To Move In. Near Electronic City. Enquire Now! | |

| | | |
| --- | --- | --- |
| Sobha Indraprastha – B'lr | 3 & 4 BHK Apartments @ Rajaji Nagar, Bangalore, Know More. | sobha-indraprastha.com/Bangalore |

| | | |
| --- | --- | --- |
| Download Free Software | Download Free PC Manager Software. Easy File Transfer. Download Now ! | mobogenie.com/download-software |

| | | |
| --- | --- | --- |
| | Near Kanakapura Just Rs.188/sqft with all amenities, Birds & Animals | |