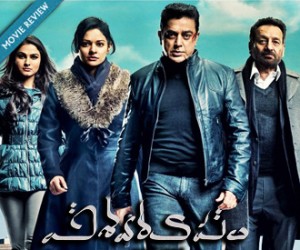 Rating: 3/5
Banners: Raaj Kamal Films International, PVP Films
Cast: Kamal Haasan, Pooja Kumar, Andrea Jeremiah, Rahul Bose and others
Music: Shankar-Ehsaan-Loy
Cinematographer: Sanu Verghese
Editor: Mahesh Narayanan
Director: Kamal Haasan
Producers: Kamal Haasan, Chandra Haasan
Release date: 25/01/2013
Kamal Haasan is back and this time he has come up with a subject which has already started creating trouble across a community and led Kamal into many difficulties. Is it really that bad? let us see.
Story
Set on the backdrop of America, the story begins with Nirupama (Pooja Kumar) a nuclear oncologist who shares her thoughts with a shrink and this is about her marital relationship with her husband Viswanath (Kamal Haasan) who is a Kathak dancer. She marries him so that she can come to US and pursue her career. In this process she also starts having an affair with her boss. Meanwhile, Omar (Rahul Bose) is a terrorist who masterminds an operation in US and he wants to execute it at any cost. The story takes a turn when Omar's path clashes with that of Viswanath and Nirupama and Nirupama is in for a series of shocking discoveries. What is all that forms the rest of the story.
Performances:
This is one of those rare situations where Kamal Haasan is seen playing with the subject and story allowing space for others. This subtle performance from him really did the trick.
Pooja Kumar is expressive, confident and has a cute sex appeal which is hard to miss. She may not be much of a glam doll but she would be useful for performance driven modern roles.
Andrea has a subdued role in this and the good part of it is, she got to share many screen frames with Kamal. Wherever she was, she made her presence felt with her towering figure.
Rahul Bose carried out his role with aplomb smoothness and there was no dramatic overdose in his body language. He was cool and performed with a balanced approach.
Jaideep Ahlawat is one man to watch out for. He has the looks, the ease in front of the camera and if given a good role he would be able to overshadow many of his contemporaries.
Shekhar Kapur was neat, Nasser was brief and natural, Zarina Wahab came and went, Miles Anderson was adequate. The others did their bit as required and added value.
Highlights:
Screenplay
Locations
Background score
Theme
Drawbacks:
Length
Less emotional depth
Analysis:
Terrorism is something which has crippled many nations across the world and India itself has been a victim of it.
Films on this subject have come in many numbers but getting into the mind of a Jihadi who is disillusioned about a holy war is something not explored properly. This is the attempt from Kamal Haasan. But then, the good thing from him was, he never tried to go deep into it or preach anything out of emotion or patriotism.
The theme was handled with finesse and it goes more like a tale of an individual rather than the plot. There is a lot of commotion happening about the film and one section of community expressing anguish that they are shown in a bad light but let's face it, there is no other premise to deal with this subject without taking a reference point.
Moreover, there is nothing controversial or negative being shown about a religion or faith in this movie. For that matter, Kamal hailing from a Brahmin family is an atheist and he has cracked a joke or two on the Brahmin sect. There's no harm in that.
Ultimately, a cinema must be watched like a cinema or the art form will lose its identity completely with every person feeling something or the other. Coming back to the movie, the technical and production values are very strong and though the line is simple it is the way the whole thing was handled which scores.
The first half is a bit slow but as minutes pass by the temperature builds and each scene was executed with conviction. Sometimes, you really wonder if it is really Kamal's direction. For a man who is so obsessed on exposing only himself and his talents onscreen, this is a total contrast from his end.
Overall, the film has enough to make the audience sit with attention and look forward to the second part.
Bottomline:
Worth a watch, not for the substance but for the execution and approach towards a sensitive issue