Film: Eega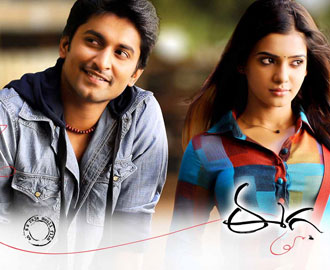 Starring: Nani, Samantha, Sudeep
Director: S.S.Rajamouli
Producer: Sai Korrapati
Banner: Varaahi Chalana Chitram
Music: M.M.Keeravani
Eega Movie Rating: 3.5/5
Story:
Eega starts of with voice over of a father trying to put his child to sleep narrating a fairy tale of a superhero Eega [house fly]. Sudeep [Sudeep] is a businessman and a womanizer till he meets Bindu [Samantha]. Bindu is a miniature artist and a social worker, who has a soft corner for a charming guy living next door Nani [Nani] who is madly in love with her. Knowing about their love Sudeep's ego is hurt and frenzy Sudeep kills Nani for Bindu. How Nani reincarnates as a fly? How Eega takes revenge on Sudeep? Forms the crux of Eega.
Perfornmances:
Nani looks different in the movie but given his best, especially in the scenes where he tries to impress Samantha. Hero appears for a few minutes on the screen and reincarnates as fly immediately after the death of Nani.
Samantha, the beauty glam has nothing to perform much yet given best for her plot.
Sudeep steals the show of Eega, as a bad man for Nani with his villainous looks. Sudeep has to be tapped for his irritating, perplexing, dazed, angry, frustrating and heightened performance.
Technical Analysis:
Tollywood successful director Rajamouli has once again proved his guts with Eega, by taking a small film to heights. Rajamouli is best in narrating a sensitive plot with more hilarious and interesting screenplay.
MM Keeravani's background scores and re-recording have given life to the graphical Eega created by Rajamouli with the help of Hollywood Technicians and cameramen KK Senthil Kumar.
Special VFX effects and the animation works are the highlights of this graphical extravaganza Eega. Sai Korrapati has lavishly produced this sci-fi movie Eega with excellent graphics and cinematography.
Analysis:
The basic plot of Eega is simple and predictable but the director has packed it with visual narration along with Keeravani's music notes and enthralling performance by Sudeep that takes it to the winning post.
The obsessive and consistent behavior of Sudeep is a treat for audiences, which forces a smile on the faces of most serious looking persons even. The torture that the fly inflicts on the killer is so much, especially in the scene where security guards of Sudeep are holding insect bats, instead of guns when he arrives for a meeting.
Eega is a visual feast for the audiences with few dialogues, good music with a predictable plot and excellent cinematography. Last but not least director's choice in roping in Aravind, Hamsa Nandini, Devadarshini, Thagubothu Ramesh, Aditya Menon et al keeping in mind different languages should be admired.
Final Verdict:
Eega is a fully loaded visual feast for the audiences