Srimannarayana Review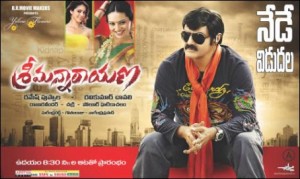 Rating: 3/5
Banner: Yellow Flowers Banner
Presenter: RR Movie Makers
Cast: Nandamuri Balakrishna, Isha Chawla, Parvati Melton, Vijay Kumar, Suresh, Vinod Kumar Kota Srinivasa Rao, Jaya Prakash Reddy and others
Cinematography: T.Surender Reddy
Art: Nagender
Editing: Goutham Raju
Music: Chakri
Producer: Ramesh Puppala
Story-Screenplay- Dialogues-Direction: Ravi Chavali
CBFC rating: A
Release date: 30-08-2012
Story:
Srimannarayana (Balakrishna) is a journalist with a TV channel and he believes in fighting against injustice. He inherits these ideals from his father (Vijay Kumar) who believes in serving the farmers to his best. As part of that, he starts an initiative named Jai Kisan and collects funds of nearly 5000 crores. Meanwhile, Srimannarayana becomes a pain for the local minister (Jayaprakash Reddy) and his brother (Supreeth) along with a Hawala guy Harshad (Suresh). The story takes a turn when Srimannarayana's father dies and the funds vanish from the account. The blame falls on Srimannarayana. How all that happens and what Srimannarayana does forms the rest of the story.
Performances:
Nandamuri Balakrishna is committed actor. He doesn't compromise on his dance, dialogue delivery, body language and despite his age he gives his 100% to fill the youth character. He did justice to the role.
Parvathi Melton is perhaps seen in a proper masala role for the first time. She has oozed her glamour wherever required and has that natural beauty with sex appeal. But it is better she piles few pounds. If she does that she is sure to rock.
Esha Chawla has wild sex appeal written all over her. She has that nativity oomph factor and with an innocently sexy smile she provides the much needed turn-on factor. If she can choose her roles rightly, she will have a good future as glamour heroine.
Jayaprakash Reddy was comical as usual, Supreeth was not used to his potential, same with Ravu Ramesh, Nagineedu was brief, Kota was regular, Suresh came as a surprise. Vijay Kumar was standard. Krishna Bhagawan and M S Narayana were weak. Duvvasi Mohan had few funny dialogues. Vinod Kumar could have done it better. The others didn't have much to offer.
Highlights:
Balayya's presence
Drawbacks:
Weak storyline
Powerless scenes
Abrupt editing
No punch dialogues
Technical Performance:
Ravi Chawali followed a time-tested formula for Srimannarayana movie with added commercial elements to satisfy masses and fans. He was successful in getting out the powerful mass performance from Bala Krishna. Screenplay of the movie is predictable which can be a negative point. Direction is OKay.
Fights are composed well especially first fight and the one in forest.
Choreography is Okay and Fans will enjoy few steps from Balayya.
Surrender Reddy's cinematography is good. The songs composed by Chakri suited Balayya's is ok for fans.
Verdict:
The movie started on a  slower note and picked pace towards interval.Second half is good with required mass elements by Balayya fans and mass audians. A slightly more gripping screenplay would have added weight to the movie. Fans would like Balayya's looks and energy and it will be okay for normal audience. The box office success of the movie depends on how masses receive it.