Published on Jun 18 2012
// Reviews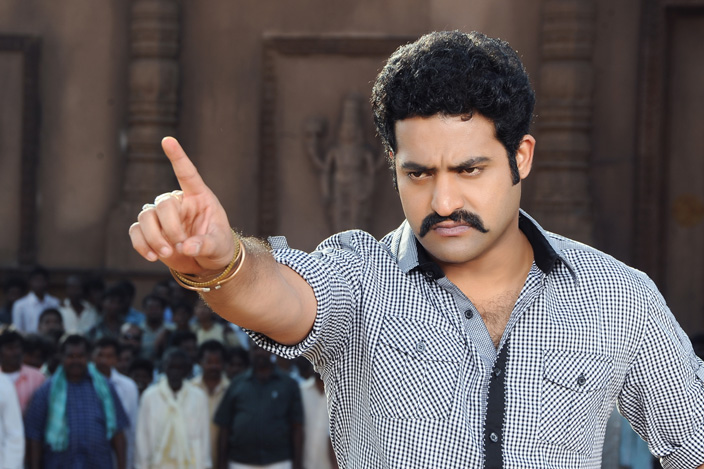 NTR, who started his career in flying colours with Oosaravelli after his marriage is now coming up before the audiences and made his efforts to show his Dammu (might) to his counterparts. However, NTR has again put up his weight and reminded his fans of his earlier films. Boyapati Sreenu, who gave a blockbuster like Simha with his 'babai', now teamed up with 'abbai'. Now let us wait and watch what kind of miracle they are going to make to win the hearts of the audiences. Though Boyapati chose a story which is very old and outdated, he tried to narrate it in a captivating way which would attract the fans of Nandamuri clan in particular and mass audiences in general.
Story: Vijayadhwaja Sri Simha aka Vijay (NTR) is an orphan, who was brought up in city. He had a peculiar interest that nobody near him should feel any kind of trouble. If he finds any in trouble, he feels that he is in trouble and get it resolved immediately in an intelligent way.
He falls in love with Satya (Trisha). At this juncture, Veeradurgam (Kota Srinivasa Rao) enters the scene and express his wish to adopt him. In the flashback, there is a big rivalry between Vasireddy clan and another clan led by Nazar. Nazar group gain upper hand and decide to kill any baby boy born in Vasireddy family. Suman and Bhanupriya of Vasireddy family were blessed with a boy and fearing that Nazar group would kill the baby they say that a still-born baby was born and escape from the village along with some of their well-wishers.
Now coming to the story, Vijay comes to know about Veeradurgam and wants to help him. He decides to go in adoption to Veeradurgam and enters their village. Later, he realises that he belongs to the same Vasireddy clan. Vijay had a sister-in-law called Neelaveni (Karthika). How, he teaches a lesson to the Nazar group and prove his might (dammu) is the climax.
Performance: NTR did a great job and took the entire responsibility in making the film interesting with his punch dialogues and perfect comedy timing. He also entertains the audiences with his typical dance moves. His weight gain did not hinder in his dance moves and powerful action scenes. Thanks to Ali for adding fuel to it with his performance and wit.
The heroines filled the glamour slot. Trisha plays the main heroine, while Karthika was seen as a seductress heroine. Other artistes like Kota Srinivasa Rao, Suman have done justice to their roles, while comedians like Brahmanandam and Ali tried their best to tickle the funny bones of audiences. Ali almost succeeded in his attempts with double meaning dialogues. Nazar excelled as villain in this factional subject.
Technical: Arthur A Wilson's cinematography is extraordinary and Kotagiri Venkateswara Rao's editing is perfect. Especially, in the song 'Ruler…' the use of computer graphic effects, the artwork and the picturisation of the entire song is superb. The song is really mind blowing. The choreographers do know very well how to extract the real power in him and how to attract the front benchers (mass audiences).
When it comes to music, Keeravani gave a superb music in songs and also in background score. He perfectly made use of song-bit in 'Simhadri' (Nuv vigilesthe Andhra soda buddi) in a mass song like Raju vachchinaado… All the other songs are similarly interesting.
The re-recording in scenes with action backdrop is mind-blowing. When it comes to dialogues by M Ratnam, he penned some punch dialogues keeping in view NTR's forthcoming political entry. Dialogues like…. "Decide ayyedi akkada, raatha raasedi ikkada, geeta geesedi ikkada, geetha nilabette dammu undedi ikkada" and "Arachethilo factoryilu choopinchi votelu veyinchukovatledaa sir", evoked huge response in theatre.
Director Boyapati penned story though very outdated, has gaven a good and novel narration with gripping screenplay and impressive direction. Nowhere, he lost grip on the script because of perfect screenplay. The entire film, though contains gory and bloody scenes at times is very impresses the mass audiences and front benchers in general and fans in particular. Boyapati and NTR did perfect justice to the story like Boyapati and Balakrishna in 'Simha'. Though family audiences may not like it, children would definitely enjoy the fights and songs.
Remarks: Sometime ago, a senior director commented: "How new stories would emerge for a commercial entertainer. We will rehash the same stories with small changes here and there. The difference is in their narration." True to this comment, Boyapati too cooked an old recipe in a novel and entertaining way. The entire first half is entertaining with a couple of action scenes. The second half is action-oriented and climax is mind-blowing.
Cast: NTR, Trisha, Karthika, Suman, Nazar, Rahul Dev, Kota Srinivasa Rao, Ahuti Prasad, Venu, Ali, Brahmanandam, Subhalekha Sudhakar, Bhanupriya, Rachana Mourya, Zakaria
Credits: Dialogues – M Ratnam; Camera – Arthur A Wilson; Editing – Kotagiri Venkateswara Rao; Music – MM Keeravani; Art – Anand Sai; Action – Ram-Laxman; Presents – KS Ramarao; Producer – K A Vallabha; Story, Screenplay and Direction – Boyapati Sreenu
Banner: Creative Commercials