Published on Mar 30 2013
// Reviews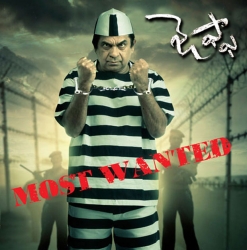 Rating : 1/5
Cast : Brahmanandam, Vennela Kishore, Ali, Dhanraj and others..
Language : Telugu
Director : Vennela Kishore
Producer: Ramesh Varma
Music: Anup Rubens
Editor: Kotagiri Venkateswara Rao
Cinematography: Raja
Banner: Kiran Arts Studio
Story:
J Falguda alias Jaffa (Brahmanandam) is a software guy immersed in all sorts of professional troubles due to his sadistic boss, Melkote. Then enters Jaffa's assistant Sujith (Dhanraj). Due to Sujith, Jaffa lands in a big trouble and finds himself locked in a prison on the charge of a murder. In prison, he wins many hearts there including the jailer , Nikki (Vennela Kishore). Jaffa often tries to escape from there and what happens next forms the rest.
Performance:
Despite having no star, the movie managed to open very well on day one, that itself is an indication of Brahmi's box office potential. He tried his best to carry the movie on his shoulders. But appears like sliding into over action mode.
Vennela Kishore is good as jailer. Melkote was okay. Ali is clueless as investigating officer due to poor characterization. There are many comedians in the movie like Dhan Raj, Venu, Venu Madhav, Raghu Babu, Fish Venkat who are all underused by the director.
Technical Performance:
Vennela Kishore even though putting up good show as an actor, failed to deliver good output. Quite understandable! Because he himself failed utterly as a writer and director. With two failures in bag on a trot, by now Kishore should have known that direction is a different ball game altogether. The direction in the movie is obsolete and the screenplay is totally missing.
Anup Rubens' back ground score is average. Cinematography by Raja looked below average and usage of 5D cannon had backfired completely here. Kotagiri Venkateswara Rao editing is very substandard. Production values are very poor with most of the film shot in Brahmanandam's house.
Final Say:
Initial scenes itself gives you a clear picture about what to expect in the next 2 hours. Main plot of the film is very weak and poorly written. None of the so called twists worked out. Even with a crowd puller like Brahmi, the movie is expected to fall flat at the box office!