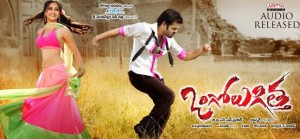 Cast :- Ram, Kriti Kharbanda,Prakash raj,Ali
Banner :- SVCC (Sri Venkateswara Cine Chitra)
Producer :- B. V. S. N. Prasad
Stroy Direction :- Bhaskar
Music :- G. V. Prakash Kumar,Mani Sharma (BGM and 1 song)
Cinematography :-A. Venkatesh
Rating: 2/5
Synopsis:
Ongole Gitta is the story of White (Ram) who does business in Guntur Mirchi Yard. Adhikeshavulu (Prakash Raj) is the Chairman of that market yard. When things goes on like this, White comes to know about his bitter past in which Adhikeshavulu topples Ram's father (Prabhu) from the post of Market Yard chairman. And the rest of the story is all about what Ram does to avenge his past and the confrontation between him and Adhikeshavulu.
How they performed?:
Ram is good in the role of White alias Dorababu. His character is a mix of his normal energy and shades of Bhaskar's hero. There is a lot of maturity in his acting. As usual his dances are rocking and his performance in action sequences is admirable. Kriti Kharbhanda is super gorgeous and looked awesome on screen. Her acting skills are good. Unlike earlier Bhaskar movies, this movie do not have much of importance in the movie.
Prakash Raj is super cool in the character with grey shades. He carried out the role with grace but the nude scenes of him are totally unwanted and are irritating. Raghu Babu and TV9 Kishore Das' comedy is good. Ali comedy is raw and massy. Jaya Prakash Reddy is good in a brief role as Prakash Raj's father.
Technical Departments:
Love stories touching subtle human emotions are forte of Bhaskar since his debut. But he tread to a different path with this movie. The story line is a routine revenge story which was touched in numerous movies in the past. However, Bhaskar was not fully successful in execution of the story. There is too much of Tamil flavour every where from comedy to fights. There are few good moments in the movie which are also overshadowed by this. Prakash Raj's nude scenes, Ali's Langa Voni scenes were height in testing the patience of the audience.
Cinematography by A.Venkatesh is good. Bhaskar himself is a cinematographer earlier and he took care of this department with his knowledge. Editing by Marthand K.Venkatesh could have been a lot better. GV Prakash's music is just average and songs are picturized well. Mani Sharma's back ground score is good.
Final Say:
The first half of the movie is okay with some comedy here and there. The actual story begins only towards the Interval bang which does nothing exciting to the already slowed down pace of the movie. The second half starts opening in to actual story but at the same time the Tamil flavour of the movie begins to dominate too much which does not go well with Telugu audience. Audience are seen going out of theaters in the Morning show of the first day. Looks like Ram had registered second failure in a trot at the box office.