Published on Jul 12 2013
// Reviews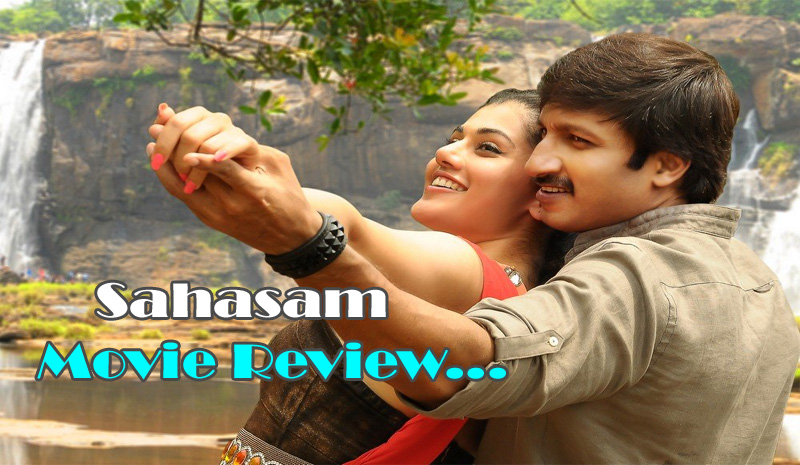 Title : Sahasam
music       : SHR

Released on : July 12,2013

Starring    :  GopiChand,Tapsee,Ali
Direction   :  Chandra Sekhar yelati
Producer    :  BVSN Prasad & reliance 
Rating           :3.25/5
What is Sahasam All About ? 
Gautam (Gopichand) is an ATM security guard who is fed with his life and bad financial condition. One fine day, he comes to know that his grand father Varma (Suman) possesses huge hidden treasure in Pakistan before the partition. Gautam decided go after it and to acquire visa, he takes help of Srinidhi (Tapsee) who advocates Hinduism. In this treasure hunt, he is troubled by terrorists who are also eying the same treasure. What happens next forms the rest of the story.
How did they perform?
Gopichand looked fit in the movie and came up with a good performance as always. He is particularly good in action sequences. Tapsee for the first time appeared in a girl next door character. The usual loudness we see in her characters is not in this movie and she performed well. Suman is good in the little character which comes in the flash back. Ali's comedy track as Qayamat Raju is okay but could have been written well. Shakthi Kapoor is superb in the role of a dreaded terrorist. Narayana Murthy is ok as Gopichand's father. Rest of the characters are all okay.
Technical Performances:
As always, Yeleti has shown the difference. The story theme is novel and the screenplay is good. There is a bit of exaggeration like a security guard going to Pakistan and fighting with a terrorist but can be counted as cinematic liberty. He should have added some more commercial elements to make the film more salable. Sri's rerecording is excellent and reflected the right mood. Shamdat's cinematography is superb and is many places ahead of usual Tollywood standards. Editing is good and the action sequences are well conceived.
Analysis:
'Sahasam' movie starts with slow pace and picks momentum towards the climax. Though the story is interesting, screenplay is boring with no entertaining elements. The last forty minutes of the movie is gripping and engages the audience.
'Sahasam' may not appeal to all the sections of the audience. Audience who like regular commercial entertainers may not like this movie. Audience who like adventurous, action oriented films will definitely like the movie.
Final Say:
Except for some cinematic liberties and absence of regular commercial elements, Sahasam is a good watch for people who love movies with Treasure Hunt themes. We will have to see how it works at the box office.