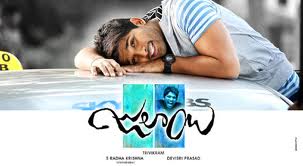 FILM: JULAYI
DIRECTOR: Trivikram Srinivas
MUSIC DIRECTOR: Devi Sri Prasad
PRODUCERS: D.V.V .Danaiah and S.Radha Krishna
ACTORS: Allu Arjun, Ileana,Sonu Sood,Rajendra Prasad,Kota Srinivasa Rao,Brahmanandam etc,.
Released date:  August 9, 2012 released in 1,500 theaters across the globe on Friday.
JULAYI is the story of a fun loving guy who does not work and has no aim in life. He falls in love with a young girl and the story turns on how his life has to change to win her love. 
STORY:
Ravindra Narain (Allu Arjun) is a very smart guy who believes in making quick money. His father Narayana Murthy (Tanikella Bharani) is against this attitude and believes in hard work. Ravi crosses the path of Bittoo (Sonu Sood) accidentally, while the latter is about to commit a bank robbery to the tune of 1500 Crores. An alert Ravi teams up with Police Commissioner Raja Manikyam (Rao Ramesh) and apprehends Bittoo. This infuriates Bittoo and he swears revenge on Ravi.
A concerned Raja Manikyam sends Ravi off to Hyderabad under a witness protection program. He asks Ravi to stay in the house of his friend,ACP Sitaram (Rajendra Prasad). In Hyderabad, Ravi comes across Madhu (Ileana) and falls in love with her. While this is unfolding, Bittoo makes his own plans to extract revenge. He works with MLA Varadarajulu (Kota Srinivasa Rao) and Travels Murthy (Brahmaji) to achieve his objective.
The rest of the story is about how Ravi and Bittoo face off. Who wins in the end? What happens to Ravi's love story? That needs to be seen on the big screen.
Plus Points:
Allu Arjun is at his energetic and stylish best in the film. His costumes are cool and his mannerisms are nice. Arjun has used Trivikram's punch dialogues well. He has performed well in the fight sequences and his dances are brilliant as always. Once again, Allu Arjun shows why he is regarded as one of the best dancers in the industry.
The music of JULAYI, which has been composed by Devi Sri Prasad, will be its second highlight. The film has five songs, which have already been successful in impressing the music lovers. Two of them have been shot in beautiful locations of Dubai. The costumes of lead pair in the songs look just super cool. The dance of the lead pair is another attraction of the songs.
Ileana looks great and has a good romantic track with Allu Arjun in the first half. Rajendra Prasad is classy and shows yet again why he is such a highly respected actor. He is brilliant as ACP Sitaram. Kota Srinivasa Rao is good.
M.S.Narayana brings about a few laughs. Brahmanandam rocks as thief Brahmam. He has a brilliant episode in the second half with Hema and his mannerisms there are howlarious. Sonu Sood is good as Bittoo and he excels in both the villainous episodes as well as in funny episodes towards the climax. Brahmaji and Tanikella Bharani are alright. Rao Ramesh is decent.
Trivikram's dialogues deserve special mention. They are outstanding and are used to great effect in the first half. The pace of the first half is very good, and the movie just breezes by with some good Trivikram mark comedy. Songs have been choreographed nicely and they gel with the tempo in the first half.
Ali and Posani make cameo appearances and they are good.
Minus Points:
The second half is a letdown when compared to the first half. The pace of the narration dips a bit. When Trivikram is at the helm, audiences expect stylish and well shot fight sequences. In JULAYI, the fight sequences tend to be a little over the top . Cars crashing into each other unrealistically and Scorpios flying are not what we expect from you Trivikram sir.
Romantic track with Ileana has been left incomplete and it has not been properly tied up. Dharmavarapu is routine.
Comedy in the second half may not be easily understood by B and C center crowds as it is subtle. Also, there are some unrealistic aspects in the story line. Allu Arjun behaves like an extra constitutional authority throughout the movie. He keeps accompanying police officers and shoots criminals on the road in broad daylight. Why does the police department put up with it even though Rajendra Prasad is an ACP?
The climax sequence is routine and some of the scenes are again unrealistic. Perhaps Trivikram wanted to play to the masses. The placement of the songs in the second half could have been better.
Technical Aspects:
It is extremely good to see how Trivikram manages to get us to indulge in laughs as he continues to pun Telugu, and make more fun out of ordinary situations in life. Inspite of the demands of a commercial movie, this time he has ensured that he keeps the theme of the film flowing by getting a father to tell his son that there is only a thin difference between the protagonist and villain, and that protagonist has to make his choices to remain on the right side. This touch, with a little bit of reality and philosophy imbibed in it – is not only important for any movie, it also adds more sense to a commercial entertainer like JULAYI. As usual, Trivikram's conversations are the soul of the film.
Cinematographer Chota K.Naidu keeps his camera work a bit more real, forgoing his usual – low angles for the Telugu protagonists! The digital intermediate work too is top notch, which makes the entire film very colorful. Art work, especially in songs of the second half, is very noticeable, and the way the usual shooting spots of Telugu cinema are colorfully lit in the first song is worth a mention.
The movie could have been crisper, but Prawin Pudi does show glimpses of brilliance in the way he cuts few sequences. Devisri Prasad's music, both songs and in the background, manage the flow of the film smoothly. But what isn't smooth is the stunts and the graphics work around these stunts – fights are too surreal and the graphics too 'visible'!
Verdict:
JULAYI has a great first half going for it. Trivikram's stamp can be seen all over it and this half makes for some great entertainment. A slightly below par second half and unnecessarily over the top sequences spoil the flavor a bit. Still, JULAYI makes for some good entertainment overall. Allu Arjun and Rajendra Prasad excel in this film and you can happily catch JULAYI just for them. From a commercial perspective, we have to wait and see how the movie scores in B and C centers as mass crowds might not understand some of the subtler elements in the film.
What's the Bad?
While we all know that this is a Telugu film in which the hero's character is incredibly good, the protagonist of JULAYI is a bit too clever for the audiences to take. His presence of mind can be beaten only by a god; he fights like Neo of the Matrix and the fact that he is more of an ordinary middle class boy beats any explanation on how his mind is 'criminally' sharp! Director makes a mess of the robbery scene, inspired from the The Dark Knight, and those who have seen The Italian Job will cringe during the climax truck-helicopter chase scenes. That said the first half of JULAYI flows like a breeze, with lots of laughs. But, the second half lacks the pace and the consistency of the first half, as the director – for commercial reasons, is forced to dabble between serious and some funny boy chasing girl sequences.
This doesn't necessarily mean that the movie loses out on its entertainment with some well shot songs and more funny scenes making it up to us.
Final Point:
Devi Sri Prasad's music is good and background score is decent. What's definitely guaranteed is lots of positive smiles, if not laughs.
Rating – 3.50/5