Published on Jan 08 2013
// Reviews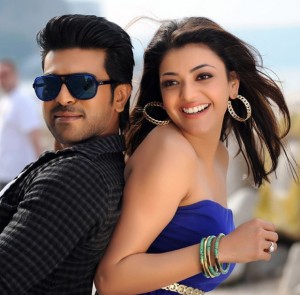 Ram charan nayak telugu movie Review 
Release date: 9th Jan 2012
Director : V.V. Vinayak
Cast: Ram Charan Teja, Kajal Aggarwal, Amala Paul
Producer: D.V.V Danayya
Story : Akula Shiva
Screenplay : Akula Shiva
Cinematography : Chota K. Naidu
Music : Thaman SS
Banner: Universal Media
Story:
Mega Star Chiranjeevi's Son Ram Charan,Kajal & VV Vinayaks's 'Naayak Telugu Movie' hit the screen today. Ram Charanproved his talent with Magadheera. Coming to Nayak story Cherry (Ram Charan) is a software engineer. He has a bachelor uncle Jilebi (Brahmanandam).  Jilebi who suddenly runs into danger and anger the local Don Gandipeta Babji (Rahul Dev). At the Cherry plans to save Jilebi from Gandipeta Babji.
On the way Cherry falls in love with Gandipeta Babji's sister Madhu (Kajal). Mean while a series of high profile killings takes place in Kolkata and Hyderabad. Minister Rawat (Pradeep Rawat) is targeted. This time Ashish Vidhyardhi comes into picture. He leads CBI team starts hunting for Cherry. Why they hunt for Cherry? How does Cherry escape from the CBI Team? What happens in Kolkata?  What is the flashback?  Cherry in one role or two? Find answers on Big Screen…..
Analysis:
Coming to Nayak analysis part the first half of the film is fantastic. Cherry's Nayak movie with the right mix of comedy, action and romance. Tempo is very fast. Second half starts with a serious action and violence. Jayaprakash Reddy is excellent as Rahul Dev's Pedananna. M.S.Narayana is funny as a continuously drunk and CBI lip reading specialist. Posani Krishna Murali is extremely effective as a Kolkata criminal. His chocolate scenes are very funny. Cherry's voice modulation is very good now. Cherry's dances are superb. Kajal Aggarwal looks gorgeous in the movie. Overall movie is superb.
Performances:
As like Magadheera Ram Charan did an impressive job in Nayak. Charan proves his dance performance again with Naayak. Kajal Aggarwal looks stunning in the movie. Brahmanandam has a chunky role, he entertains luminously. M.S.Narayana is funny with his drinking scenes again.Posani Krishna Murali gives 100% justice to his role. Amala Paul does not have that much significance in the film. She looks grand. Pradeep Rawat done well. Ashish Vidhyardhi had done a very good job as aCBIofficial.
Technicalities:
V.V.Vinayak's direction is simply superb. He proves his talent with multiple movies. He knows mass pulse. Chota K Naidu's cinematography is a most important asset to the movie. Editing is simply superb. Dialogues are well, especially for the comedians. Thaman's music and background score is very effective. Film has a very high entertainment measure with a good narration speed. Screen Play is awesome. Production values are good. Locations chosen are good.
Final Word: Go and Watch Nayak. It is definitely Cherry's pongal treat. It is a right mix of Comedy, Action & Romance oriented movie.
Nayak Review Rating: 3.25/5