Published on Jun 18 2012
// Reviews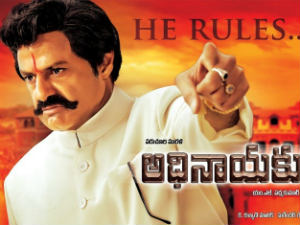 These days, script writers are of the opinion that there are no stories for a film with a single hero. But director Paruchuri Murali has prepared a subject with three heroes. Another important point to note is that a hero playing dual roles is an uncommon feature these days. But Balakrishna has dared to play triple roles in this film, depicting three generations as grandfather, father and son. Will this experiment reap fruit?
Story: Harischandra Prasad (Balakrishna) is an influential leader in Rayalaseema and he treats all his people as his children. To provide jobs to them, he decides to build a huge steel plant with the assistance of foreign collaborators. But Ramappa (Pradeep Rawat) and his assistant (Kota Srinivasa Rao) oppose this. They hatch a plan to eliminate him. His son Ramakrishna (Balakrishna) thwart the villain's plans. But the story takes a cruel twist as the villains strike at the heart of the family by using Bobby (Balakrishna). What is the plan? How do they manipulate Bobby? What is the twist in the story? Answers to all these form part of the climax.
Performance: Balakrishna has done justice to all three roles. It is the grandfather's role which grabs more attention of the audiences. The grandson's role gains impresses front-benchers. All his action, song and dance sequences impress front-benchers. His dialogues are punchy as well. Lakshmi Rai, who appears in some romantic songs, has filled the glamour slot. Jayasudha, Sukanya, Kota Srinivasa Rao, Pradeep Rawat, Charan Raj have done justice to their respective roles. MS Narayana, Venumadhav and Brahmanandam tickle the funny bones of audiences.
Technical: T Surender Reddy's cinematography is unimpressive. Kotagiri Venkateswara Rao has failed to use his scissors as the film has many unnnecessary tear jerks at many places. Dialogues are good in parts and the dialogues of the grandfather and father's roles have lot of punch. Kalyani Mallick has failed in giving good tunes to the songs, but he has put a good show in re-recording. His background score elevates many scenes in the film.
Paruchuri Murali could be given full marks for elevating the hero's image in all three characters. But he could not show the same work when it comes to the subject. He has ignored certain departments like use of wigs of the father's role and his beard as they look in different shapes in different takes. The action scenes are okay and the songs also appear good on the screen. Though he loses grip on the story on many occasions, he is able to regain it immediately. It is like a learner riding on a mad horse.
Remarks: It is a Balayya-mark film and would definitely attract his fans. No doubt, the film would go well with the mass audiences. Hence it will be a commercial success. Watch the film for masala entertainment, but not for a decent view.
Cast: Balakrishna, Lakshmi Rai, Sukanya, Brahmanandam, Pradeep Rawat, Kota Srinivasa Rao, MS Narayana,Venu Madhav, Charan Raj, Jayasudha, Saloni Credits: Cinematography – T Surender Reddy; Editing – Kotagiri Venkateswara Rao; Music – K Kalyani Malik; Action – Ram-Laxman; Presents – Sandeep; Producer – ML Padma Kumar Choudary; Story, Screenplay and Direction – Paruchuri Murali
Banner: Sri Keerthi Combines