Published on Jan 10 2013
// Reviews
Seethamma Vakitlo Sirimalle Chettu Movie Review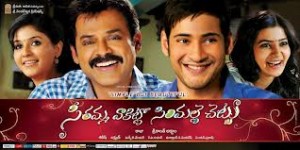 Rating :-3.25/5.
Starring Venkatesh, Mahesh Babu, Anjali, Samantha and others,
Direction: Srikanth Addala.
Producer: Dil Raju.
Banner: Sri Venkateswara Creations
Music: Mickey J. Mayor.
Action: Vijay.
Art: AS Prakash.
Editing: Marthand K.Venkatesh.
Cinematography: KV Guhan.
Story :
The story of 'Seethamma Vakitlo Sirimalle Chettu' is set in a small village called Relangi. The story revolves around a lovable family headed by Prakash Raj. Fondly called as Relangi Mavayya by his nephews and nieces, Prakash Raj is seen as a kind hearted gentleman who gives great importance to human values and relationships. He has two sons – Peddodu (Venkatesh) and Chinnodu (Mahesh Babu).
Venkatesh is seen as a strong willed and highly emotional guy who does not like to bow down to others. He believes in doing what is right and waits for the 'big golden chance' in life. He is unemployed, but very honest and loves his younger brother Mahesh a lot. Seetha (Anjali) is his maradalu. She is very attached to Venkatesh and grows up believing him to be her husband.
Mahesh Babu on the other hand, is a witty and charming young lad who is irresistible to women. He tries to talk his way out of situations using his wit. He falls in love with Geetha (Samantha), who happens to be the daughter of Rao Ramesh. Rao Ramesh is seen as an arrogant guy who ridicules Prakash Raj and his family for their low wealth.
The unemployment of Venkatesh and the ridicule heaped on the family by relatives puts some strain on the relationships. Both Venkatesh and Mahesh Babu find that their love lives also get affected by all this.
What does Prakash Raj do in these circumstances? Can Venkatesh and Mahesh Babu win the women they love? That forms the story of 'Seethamma Vakitlo Sirimalle Chettu'.
 Performances:
Mahesh Babu is currently in a wonderful form especially with his comedy timing. His one liners in East Godavari accent are a treat. He has delivered yet another wonderful performance as chinnodu. He simply carries off the film on his shoulders and provides good entertainment in parts. If not for Mahesh this film would have been a letdown. Such is the impact of Mahesh on this movie.
Venkatesh has been dominated by Mahesh in most of the scenes as Venkatesh played a serious role which is completely in contrast to that of Mahesh's. However Venky had his moments here and there where he comes up with trademark sentimental performance. Being a multistarrer one would expect Venkatesh to have a better role.
Prakash Raj is very good in his role. He is very natural and so is Jayasudha. Anjali's character is over the top at times but she is good and lovely in the role. Samantha is alright. Rao Ramesh and Tanikella Bharani are fine.
Minus Points :
There is a slight lag in narration in the second half. It is not uncomfortable, but it can be felt. The film needs to be watched without expecting any of the traditional heroism associated with Venkatesh and Mahesh Babu. If you go looking for that ,you may be disappointed.
Great emphasis is placed on family bonding and human emotions and traditional commercial elements take a back seat here.
Technical Aspects :
Guhan's cinematography is outstanding in the movie. The visuals are rich and colourful and the frame appears very rich. Mickey J Meyer's music is an asset for the movie. Editing is decent. Dialogues have been written very well.
Srikanth Addala's success lies not in brilliant storytelling, but in patiently weaving a family drama that balances Venkatesh and Mahesh Babu well. It is not an easy thing to do in this day and age.
Final Say:
The first half of the movie is good and the graph in the second half dips slowly. The climax looks abrupt. Just like TV show, the movie just goes on slowly with out generating any stir with the entertainment quotient totally missing. The movie success will now depend on how families and ladies lap the movie.