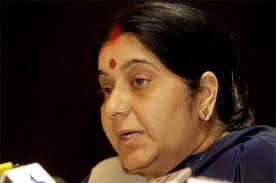 BJP has said that it will not disrupt the passing of four important Finance Bills, but emphasized that the UPA government can hereafter cease to expect any support from the main opposition party.
Leader of Opposition in the Lok Sabha Sushma Swaraj slammed the Congress-led UPA government as "the most corrupt government since Independence. There is scam after scam, each breaking the record of the previous one… how can they call us irresponsible? she j said.
The Prime Minister was not present in the Lok Sabha, but Congress president Sonia Gandhi was present as Ms Swaraj spoke. The BJP-led Opposition has not allowed Parliament to function over several issues, including the coal controversy, since it reconvened for the Budget Session after a recess.
The Manmohan Singh government is short on numbers in Parliament and depends not only on the external support of parties like Mulayam Singh Yadav's Samajwadi Party and Mayawati's BSP, but also the opposition, to push important legislation.