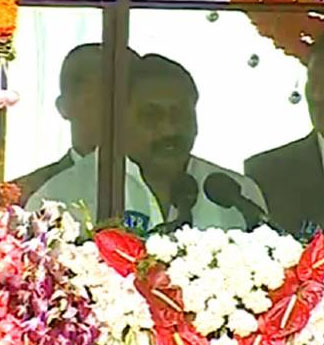 Andhra Pradesh State formation day is celebrated in NTR Stadium at Indira Park in Hyderabad in which the Chief Minister Kiran Kumar Reddy attended as chief guest to hoist national flag and to get salute from the armed forces.  Students of different schools participated in the cultural programs dancing and singing praising Telugu Thalli and Bharata Mata attracted the participants of the program.
Kiran Kumar Reddy spoke on the occasion.  He said that he prays Telugu Thalli to see that it will not be the last celebration of AP formation day.  He said that the State of AP was the first to form on the basis of the language.  He said that the unity of the Telugu people is the cause for making the State politically and financially strong.  He also said that a doubt is in the minds of the people of Andhra Pradesh whether a celebration will be there next year or not.  He reminded the speech of Indira Gandhi in the Parliament to keep the State united.
Kiran Kumar Said that the State could build projects like Nagarjuna Sagar, Sriramsagar and Srisailam project and could maintain law and order because it has been a united state.
Other prominent personalities attended the program are Government Chief Secretary Mohanty, DGP Prasada Rao, Minsiters Raghuveera Reddy, Sailajanath, Ganta Srinivasa Rao, Pitani Satyanarayana, TG Venkatesh and Danam Nagender.
Similar activities of AP State formation day are held by Telugu Desam Party in NTR Trust Bhawan and Lok Satta party in their office.
Telangana Jagruti Students tried to stop the car of the Collector who was going to the Collectorate to attend State formation day celebrations.  Police arrested the protesters after which the scheduled program went on smoothly.