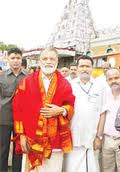 Ahead of the muchawaited launch of Mars Orbiter Mission (MOM) from Sriharikota spaceport, the ISRO scientists are busy making last-minute preparations for the satellite launch  and also seeking divine intervention to make the mission a success.
As per the common practice, ISRO chairman Dr G Radhakrishnan performed special poojas to the prototype of PSLV-C 25 rocket at the temple of Sullurpet village deity, Changala Parameswari, located in Sullurpet town on Monday morning.
Generally, Dr Radhakrishnan performs pooja in the local temple after visiting Tirumala.
But this time, he offered prayers at the local temple and then flew to Tirumala.
Speaking to reporters in Tirumala, Dr Radhakrishnan said the present mission isa long one and the first of its kind for the ISRO. "The spacecraft will be moving towards Mars by September 2014," he said.
On ISRO's future plans, Dr Radhakrishnan said they would be launching the GSLV P5 communication satellite in December.
"It is a test for our cryogenic stage," he said. Dr Radhakrishnan was accompanied by his wife and a team of 18 ISRO scientists.