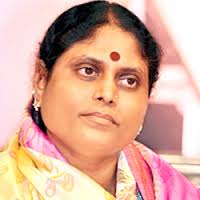 YSRCP honorary president YS Vijayamma along with her party leaders sat on a dharna at Janthar Mantar in New Delhi on Wednesday.
Speaking to reporters, she said that YSR wanted the state to remain united. "YSR was a Samaikyandhra supporter and wanted equal status to all regions in the state. He always wanted to see the Telugu people together – united and be happy. "
Blaming the Congress and TDP for the present crisis in the state, Vijayamma agonised that the government had come to a stand still.
She also said that the state had turned into a burning furnace and differences cropped up between Telugu people post Telangana declaration.
She demanded to know why Telugu people should leave Hyderabad. She openly asked the Centre when people from all the regions were responsible for the development in Hyderabad, how can it be given to just Telangana people?
She asked, how far was it fair to say Assembly resolution is not required on the division of state.
She also recalled that only YSRCP MLAs had resigned in the speaker format. The CWC decision will be withdrawn if TDP MLAs resigned in speaker format, she said.