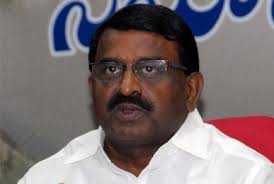 Social Welfare Minister Pithani Sathyanarayana has come out with official statistics on the controversy of fee reimbursements raised by the YSRCP working president YS Vuijayamma.
Countering her criticism the Minister said that in all 3,24,755 students were being enrolled for 2013-14 in 685 engineering colleges an uniform fee reimbursements were allocated for Engineering, MBA and MCA courses .
He said SC/ST students get full reimbursements which ever course or college . But BC and EBC students get n full benefit only upto 10,000 EAMCET ranks while others get Rs.35,000 regardless of the college fees.
Those in convener quota of medicine, dentistry and degree post graduate course get full reimbursements.