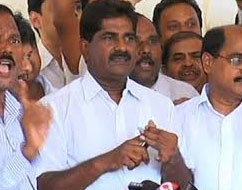 The APNGO's Association President Ashok Babu said that it will be the end of the road for the political career of the leaders of Seemandhra if they support the State bifurcation. He said that the Ministers and MPs knowing that the proposal is going to the Cabinet as a Table Note today have not attempted to do anything about it and it is very heartening for the Seemandhra people to know about it.
He warned that only the leaders will be responsible for the consequences if they don't resign when the Telangana Note reaches the Cabinet Meet.  He said that it will not be tolerated if the representatives of the people supporting the bifurcation of the State for the sake of their political liverage.
Ashok Babu said that he is requesting all the leaders not to be a part in the act of dividing the Telugus.  He said that all leaders of Seemandhra should resign irrespective of the party they belong to.
The State Minister C.Ramachandraiah objected for the demand of Ashok Babu to resign. He questioned who is Ashok Babu to ask them to resign when they are elected by the people to represent them?