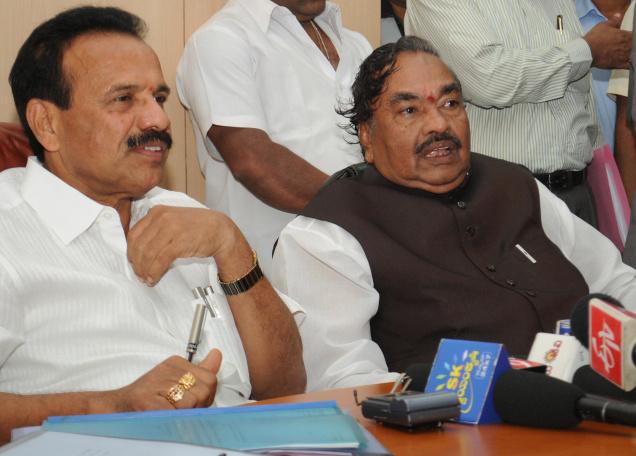 Karnataka BJP president K. S. Eshwarappa today ruled out accepting the resignations of nine Ministers loyal to B. S. Yeddyurappa, who are pushing for replacing Chief Minister D. V. Sadananda Gowda with their nominee Jagadish Shettar.
"There is no question of accepting the resignation of the Ministers", he told reporters after meeting Mr. Gowda in Bangalore.
Mr. Eshwarappa said he is confident that Mr. Gowda and "friends" supporting Mr. Shettar would abide by any decision of the party's central leadership.
Minister for Labour and Sericulture, B. N. Bache Gowda, met Sadananda Gowda and later told reporters there is no question of change of leadership.
"There is no question of leadership change. He will continue as Chief Minister", the minister asserted.
The ministers who resigned are Mr. Shettar, C M Udasi, Basavaraja Bommai, Murugesh Nirani, V Somanna, Umesh Katti, M P Renukacharya, Revu Naik Belamagi and Raju Gowda.
Meanwhile, the Chief Minister met Governor H R Bhardwaj at the Raj Bhavan.
BJP leader Dharmendra Pradhan, who is in charge of Karnataka Affairs, is arriving in Bangalore today to resolve the crisis facing the government.