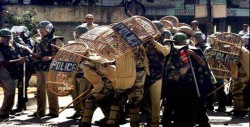 At least three policemen were injured when pro-Telangana students on Saturday pelted stones at cops at the Osmania University campus and near the Nizam College hostel after they were prevented from taking out rallies, police said in Hyderabad.
At least three policemen were injured in the incident, police said, adding that several students near Nizam college hostel were also taken into preventive custody.
Scores of pro-Telangana students argued with police and tried to remove the barricades after they were stopped near the NCC gate on the OU campus when they attempted to take out rally towards L B Stadium in protest against the APNGOs meeting, which is scheduled this afternoon, they said.
After being prevented from taking out the rally, the protesting students started pelting stones at police resulting in injuries to at least three policemen, a senior police official said, adding the situation is tense but under control.
Police fired teargas shells to disperse the protesting students on the OU campus. Another group of pro-Telangana students also hurled stones at police near the Nizam College hostel, however, police personnel immediately swung into action and took several protesting students into preventive custody.
The pro-Telangana groups are opposing the scheduled Andhra Pradesh Non-Gazetted Officers' (APNGOs)-sponsored meeting at L B Stadium here as they were denied permission to hold a 'peace rally'.
APNGOs Association, which represents Seemandhra employees, was granted conditional permission by police to hold 'Save AP meeting' from 2 pm to 5 pm and only those carrying identity cards will be allowed inside the meeting.
Prohibitory orders under Hyderabad Police Act have already been imposed in the city and heavy forces, including 45 platoons of Andhra Pradesh Special Police (APSP) and 11 companies of paramilitary forces have been deployed to prevent untoward incidents.