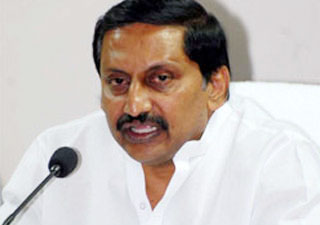 He failed to get Madam Sonia Gandhi interview even after two days waiting at Delhi. Soon after he returned, the Seemandhra lobby blasted him and launched their tirade against him.
And now the huge tree falling on his convoy and special Scorpio cars designed for him in the secretariat.
A large tree located in the corner between C and B Blocks at the right corner of Samata block suddenly collapsed on CM's convoy and also the Chief Secretary vehicle in the secretariat premises this afternoon.
Chief Minister Kiran Kumar Reddy had a narrow escape as the accident took place just minutes after the CM got into his office. His brand new Scorpio vehicles replaced in 2012 wasn't that lucky.
A constable who was on duty was injured and the security outpost too was destroyed. Casualty was less as normally crowds are not allowed to gather at the tree spot whenever CM convoy entered the secretariat till he got into the lifts and reached the office on 6th floor.