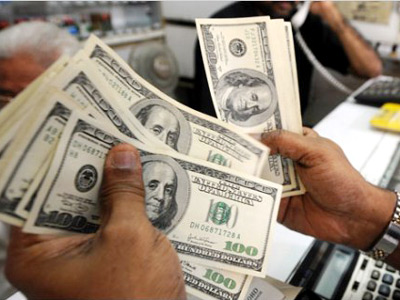 Rupee recovered sharply by 65 paise against the dollar in early trade today on selling of American currency by banks amid expectations that Reserve Bank may announce steps to boost the local unit.
After plunging to all-time low of 57.37 in the previous session, rupee gained a hefty 65 paise to trade at 56.50 against the dollar at the Interbank Foreign Exchange market.
Forex dealers said besides dollar selling by some banks, a strong opening in the equity market amid hopes that the Reserve Bank may announce a series of measures to check free-fall in the rupee supported the domestic unit.
The Reserve Bank on Friday had directed state-owned oil firms to buy half of their dollar requirement for oil imports from a single public sector bank.
The rupee on Friday fell to all-time low of 57.37 intra-day against dollar on intense demand for the U.S. currency, particularly from oil importers, but ended at 57.15, recording this year's biggest fall of 85 paise in a day.
Meanwhile, the 30-share BSE Sensex rose by 122.91 points, or 0.72 per cent, to 17,095.42.