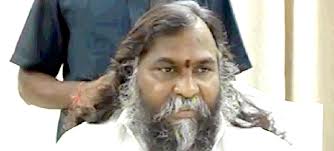 Medak : Government Whip Jagga Reddy appears to have gained an upper hand over the TRS chief and Mahabubnagar MP K Chandrasekhara Rao.
It may be recalled that the Chief Minister threw a challenge to KCR during his recent visit to Medak district. Referring to the threat of KCR that he would cause an earth quake if Bayyaram iron ore was shifted to the Visakhapatnam Steel Plant, Kiran said he knew how to face earth quakes. He also told KCR that Bayyaram iron ore would be allotted to only Visakhapatnam Steel Plant and there would be no change in the government's decision.
Reacting to this statement of the chief minister, TRS gave call for Medak bandh. Jagga Reddy said he would ensure that the bandh would flop. True to his word,  he ensured that the bandh was not a total success. Bandh on Friday was only partial in the district. Though TRS leaders like Harish Rao tried to obstruct buses from leaving the depots, they could not paralyze the bus services. Harish Rao, former MLA Padma Devender Reddy and others were arrested by the police for obstructing buses.
True to the challenge of Jaggareddy that the people of Medak would not support the bandh, there was no shut down in Sangareddy. Though some TRS workers came out and asked shop owners to down their shutters, congress workers and supporters of Jagga Reddy were also present on roads in good numbers assuring the traders. Buses are plying as usual and commercial establishments, shops and hotels were open.
However, at Sangareddy, two buses were burnt by unidentified persons during the wee hours of Friday.
Harish Rao deplored Jagga Reddy's attempts to oppose the bandh. Speaking to the media before his arrest at the Siddipet depot, he made it clear that the people of Telangana would not be mute spectators if the government sent Bayyaram iron ore to Visakha. He also demanded the police to release all the arrested TRS activists.
Police raided the houses of TRS leaders on Thursday night and early Friday and taken them into preventive custody in view of the bandh.