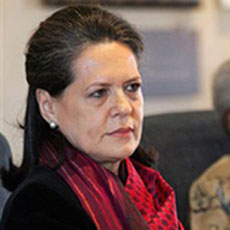 Though the AICC president Sonia Gandhi is generously meeting leaders from the Congress to gauge the political situation in the state, she is said to be remaining tight-lipped on Telangana or change of guard in the state.
Her stony silence on these two key issues, is making the state Congress leaders racking their brains.
A senior Telangana leader, who came back to Hyderabad on Thursday after camping in New Delhi for over a week and holding talks with the high command, said the party president is keen on knowing the ground realities in the state rather than divulging her opinions.
When leaders gave their version for the party's debacle in the recent bypolls, Sonia is said to be hearing them patiently and even jotting down interesting points. But, she is not uttering a single word either on Telangana or change of guard.
Some leaders were trying to asses the mood of the party high command from their discussions with the AICC emissary Vayalar Ravi and party state affairs incharge Ghulam Nabi Azad.
A Telangana MP said Sonia was not happy with the performance of the Congress government in the state. 'The AICC president is keeping the cards close to her chest as far as key issues in the state are concerned,' said a leader who met Sonia Gandhi.
Meanwhile, some others are drawing their own inferences basing on the developments at Delhi.
Especially, leaders from Telangana were going to the extent of making predictions that Telangana state formation is in the offing.
Apprehending that the statements for and against Rayala Telangana would rake up regional sentiments again, the PCC chief Botsa Satyanarayana called upon his colleagues not to make any statements on state bifurcation.
However, Botsa made it clear that the party high command would soon take a decision on the issue.