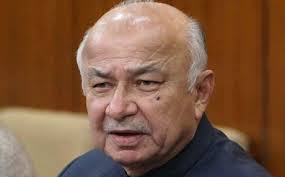 New Delhi : It looks as if the central government has no plans to concede the Telangana state. Union Home Minister Sushil Kumar Shinde said consultations were continuing to arrive at a consensus on the Telangana issue.
Speaking to the media here on Tuesday, he said it was difficult to arrive at such consensus.
When asked about Telangana Congress leaders leaving the party, Shinde said only two MPs and another leader had left the party and asserted that there would not be any more migrations. He also said no one had left the party after the three joined the TRS.
The way the UPA government has been postponing the settlement of the issue in the name of consensus, it looks as if it had no intention of conceding the separate state.
No comment on Dasari
Shinde refused to comment on the CBI raids on former union minister Dasari Narayana Rao and Congress MP Naveen Jindal.
When the media asked him about the raids on the two on Tuesday, he said the law was taking its own course. He said CBI authorities were doing their duty and there was nothing for him to comment about it. He said if they were involved in the coal scam, law would take care of it.