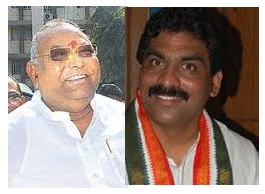 Guntur : Guntur Congress MP Rayapati Sambasiva Rao also joined the Vijayawada MP Lagadapati Rajagopal.
Talking to the media here on Wednesday, he said he would resign, if the state was divided.
It may be recalled that Lagadapati Rajagopal had already said he would quit politics if the state was divided. Now Rayapati also declared that he was a hundred percent integrationist. He said if referendum was conducted on state division, he would vote for keeping the state united.
Another MP Kavuri Sambasiva Rao who was also a staunch integrationist had however taken a U Turn after joining the union cabinet. He said he would abide by the decision of the Congress High Command on the Telangana issue.