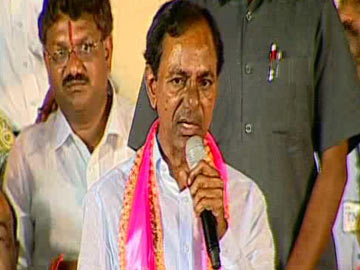 Sakala Jana Bheri, although was organized by the Telangana JAC, TRS President as usual was the center of action and as expected from him while addressing large crowds, he took the responsibility of cheering them by passing satirical comments unmindful of the repercussions.  The venue was over crowded with Telangana enthusiasts.
Main points of KCR's speech are,
About the Telangana Movement: Separate Telangana State as per their demand with 10 districts and Hyderabad as its Capital is the only proposal acceptable and the movement will not stop even if head roll.  No Kirans, Jagans and Babus even if they come in lakhs can stop the Telangana that is going to be realty.  Even if UPA fails, BJP is ready to give a separate statehood to Telangana.
About Chief Minister: KCR called him Kirikiri Reddy instead of Kiran Kumar Reddy.  CM is behaving as if he is the CM of Seemandhra.  His fears about the loss on bifurcation of the State are baseless.  As KCR reckons, the CM's fuse will go off maximum by 6th October.  DGP Dinesh Reddy's fuse is already out.   We wanted you, KCR says, to act as a Chief Minister and you act as if you are Samaikya JAC that too for an artificial movement?
About the people of Andhra Region:  Just like you find all demons in Lanka, all Andhras are Telangana traitors.  There no intellectual in Andhra.  A fool cannot think of living together after it is partitioned.
About Samaikyandhra Movement:  What type of protest is it, comments KCR.  They are eating grass, covering naked bodies with leaves and doing so many funny things and call it a movement.  Telangana agitation is the real movement.  Telangana fighters are real fighters like lions.  He says that a constable Srinivas went in to the Samaikyandhra meeting and among thousands of the people he could shout slogan in favor of Telangana.  That is the spirit and that is the real courage.  If he is beaten for that, KCR questions, then how many times Ashok Babu should be beaten and how many times Kiran Kumar Reddy should be beaten for sloganeering in favor of Samaikyandhra.  KCR called Samaikyandra movement as a keyed movement that needs a winding made by someone or other whereas Telangna movement is a natural one like a
About YSRCP and YSR: YSR, comments KCR who was saying that Telangana is not an obstrucle became a pavuram (dove) at Pavuralagutta (the hill hit by the chopper YSR was flying that caused death all of them in the crashed chopper).  Jagan says that is fighting for social justice.  But, KCR says, there no justifiable factor in their demand.
About Chandra Babu Naidu: He used to get wild on mentioning Telangana.  But he slipped down flat and no more a hurdle to Telangana.  He says that he has not taken a U turn but he took a P turn.  How many more turns, questions KCR, he will take for his life?
About Himself:  KCR said that he came out alone in 2001 with a lantern in hand and with a decision to fight for Telangana.  So many attempts were made to stop him and crush the movement.