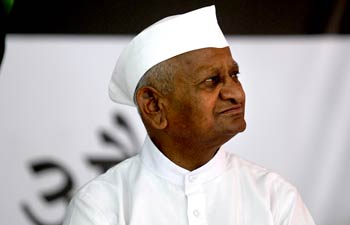 As the latest round of anti-corruption crusader Anna Hazare's indefinite fast entered into its third day on Tuesday, the Broadcast Editors' Association (BEA) has demanded an apology from Team Anna after the latter's supporters heckled media persons on Monday evening at the fast venue at Jantar Mantar.
"The Broadcast Editors' Association strongly condemns attack on media by Anna supporters. The BEA believes that this is an interference in the functioning of media. The media is discharging its legitimate duty of covering the agitation in a fair manner. The BEA seeks an immediate apology from Team Anna for the misbehaviour by its supporters," the BEA said in a press release.
The scuffle took place at around 10 pm last night, after a Team Anna member claimed on stage that the media was not fairly covering the movement.
While Team Anna member Kumar Vishwas condemned the incident saying the scuffle was unwarranted, the BEA has stressed on an immediate apology.