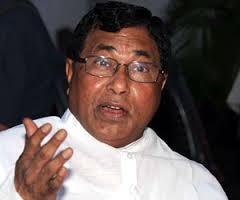 Hyderabad : Senior Congress leader and Panchayat Raj Minister K. Jana Reddy here on Wednesday reiterated that separate Telangana State was most important to him than chief minister's post.
Speaking to mediapersons here, Jana Reddy said there was no iota of truth in the media reports that he had told party supremo Sonia Gandhi that he would keep himself away from the ongoing Telangana movement if he was made chief minister of the State. Affirming that the media reports in this regard were totally false and malicious, Jana Reddy said he had clearly told the UPA chairperson that he would be away from the chief minister post till separate Telangana State was conceded. He also declared that he would work for the Congress till his last breathe if separate State for Telangana was carved out.
Horticulture Minister Ramreddy Venkat Reddy said Telangana State would be a reality the moment all the ministers of the region rendered resignations en masse. Civil Supplies Minister Duddilla Sridhar Babu said no packages would be accepted in lieu of separate Telangana State. BC Welfare Minister Baswaraju Saraiah said the so-called packages would multiply problems in the region.
Meanwhile, Seemandhra leader and former minister Gade Venkata Reddy said though there was nothing wrong in Telangana leaders demanding separate State, it was high improper for them to say that they would not contest in the ensuing general election if their demand was not conceded.