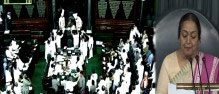 In a bold move, the Lok Sabha on Friday suspended 12 MPs from Andhra Pradesh including eight from Congress for five days for repeatedly disrupting the House over the bifurcation of AP.
Those suspended are: Konakalla Narayana, M Venugopala Reddy, Siva Prasad, Nimmala Krishnappa from TDP and Anatha Venktrami Reddy, Lagadapati Raja Gopal, Vundavalli Arun Kumar, Rayapati Sambasiva Rao,Kanumuri Bapi Raju, Harsha Kumar Magunta Sreenivasulu Reddy and Sai Pratap from Congress.
Moments after the House assembled, the Seemandhra MPs disrupted proceedings chanting slogans of 'We want justice, Jai Samaikyandhra,' leading to two adjournments.
The Lok Sabha passed the motion moved by Parliamentary Affairs Minister Kamalanath to suspend the MPs for not allowing smooth functioning of the House.
TDP MPs staged a sit-in at the House protesting suspension. After the suspension of MPs, the House was adjourned to Saturday.
Speculation was rife that UPA government decided to revoke suspension amid protests from the opposition parties.
As speaker himself announced the suspension under the rule 374, the opposition was calm.