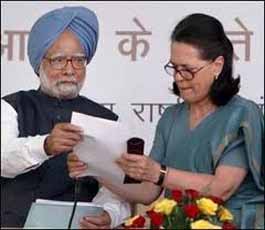 Kokrajhar, Jul 28: Prime Minister Manmohan Singh said at Kokrajhar on Saturday that it was high time that violence gave way to peace in Assam. The riots, he said, have tainted the country's history and the call of the day was to rehabilitate people and bring back peace.
Earlier, the PM and UPA chairperson Sonia Gandhi visited two relief camps, of the Bodos and the Muslims, and assured security and rehabilitation to the people in distress. They also went to the relief camp at Kokrajhar Commerce College. Singh and Sonia arrived with Assam CM Tarun Gogoi, Governor JB Patnaik, Congress leader Digvijaya Singh and Assam Congress chief Bhubaneswar Kalita in three choppers at the SAI stadium in Kokrajhar around 1 pm and were welcomed by Bodoland Territorial Council (BTC) chief Hagrama Mohilary and his men.
The PM and his entourage had started for Kokrajhar at 10.30 am but the helicopters returned to Guwahati after one of them was hit by a technical snag. The PM was supposed to reach Kokrajhar at 11 am but was delayed by just over two hours. The PM and the UPA chairperson reached Kokrajhar in a stand-by helicopter.
AUDF chief Badruddin Ajmal said he urged the PM to ensure that illegal arms are seized. "They are found in abundance and even small boys in the BTAD area are carrying them and killing people," he said. Ajmal also requested the PM to remove the DC and SP of Kokrajhar.
Over forty people have been killed while over 2 lakh people have lost their homes so far in the Assam violence.