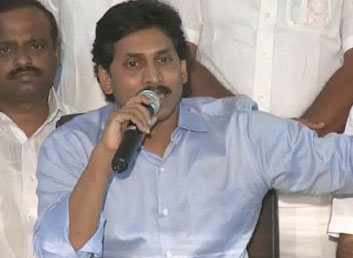 The YSR Congress party Thursday again urged Andhra Pradesh Governor E.S.L. Narasimhan to immediately convene the state assembly so that a resolution to keep the state united could be passed.
A delegation of party leaders led by president Y.S. Jaganmohan Reddy called on the governor at Raj Bhavan and submitted a memorandum.
This was the second time Jagan, as the young leader is popularly known, has met the governor to demand an assembly session. He had called on the governor Sep 30 too.
The MP from Kadapa said that only by passing a resolution and sending it to the central government could the process of the state's bifurcation be stalled.
Talking to reporters after meeting the governor, Jagan said that with the approval of the union cabinet, the central government had taken a step forward in the bifurcation of the state.
"At least now the assembly session should be convened so that a resolution is passed before the centre sends a draft bill (for the formation of Telangana state)," he said."It is our fate that we have leaders like Kiran Kumar Reddy and Chandrababu Naidu," he added.
Jagan announced that his party legislators would stage a sit-in in front of Chief Minister N. Kiran Kumar Reddy's camp office Friday, and also meet assembly speaker N. Manohar to press for an assembly session.
The MP alleged that Congress president Sonia Gandhi was playing with "our lives and the lives of our children" to make her son the prime minister.
He also reiterated that Chief Minister Kiran Reddy and Telugu Desam Party (TDP) chief N. Chandrababu Naidu were hand-in-glove with the Congress to split the state.
He said Naidu undertook a fast in Delhi seeking the state's division, while the chief minister was holding talks with employees' associations one after another to persuade them to call off their protest for a united Andhra Pradesh.
"The central ministers have also given up the Samaikyandhra (Andhra Pradesh united) demand and are now seeking a package," he said.
Jagan said his party would hold a public meeting in Hyderabad Oct 26 to oppose the state's bifurcation. He urged the chief minister and Naidu to keep aside politics and join him in his efforts to keep the state united.
He said he would send a letter through MP M. Rajamohan Reddy to Lok Sabha speaker Meira Kumar, urging her to accept the resignation of all three MPs (Jagan, Rajamohan Reddy and S.P.Y. Reddy).
S.P.Y. Reddy recently quit the Congress and joined the YSR Congress.