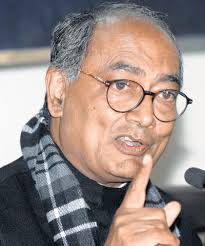 The AICC Chief Secretary and in charge of the political affairs for the State of AP of Congress party Digvijay Singh announced today that the Congress party will not go back their word like other political parties on the issue of bifurcation of the State.
Digvijay Singh also said that the Chief Minister Kiran Kumar Reddy and his family members are loyal to the Congress party.  The expressed his confidence that Kiran Kumar may be having some difference of opinion but it does not mean that he will go against the party's decision.
He also said that the agenda of today's meeting of Coordination Committee at Delhi is for real coordination but not to replace the Chief Minister.
The cautiously worded statements of Digvijay Singh suggests Kiran Kumar Reddy and his supporters that as a person having gained from the grace of the high command to hold a position, Kiran Kumar Reddy cannot be disloyal to the party to oppose the high command's decision.  Removing Kiran Kumar Reddy is not on agenda means it also could have taken place on the agenda.
As it is clear with the moves of the Congress party, coordination committee meeting is being held at Delhi wantonly to pacify the Chief Minister and other Seemandhra leaders so that they will not become hindrance to the bifurcation note when it comes to the AP Assembly.  Kiran Kumar Reddy who has been opposing the high command has also written letters to the President and the Prime Minister that the process of bifurcation is not going in the best interests of the people of the State and not as per the rules laid down in the Constitution.
The announcement of Digvijay Singh makes a clear suggestion to Kiran Kumar Reddy that he should behave himself to reciprocate the grace of the Center that made him CM and to obey the orders like a good boy but not like a problematic child.