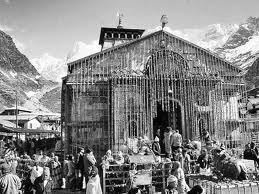 After a gap of 86 days, the daily rituals in the pilgrim place of Kedarnath are resumed today.  The natural calamity in Uttarkhand that drowned many dwelling houses, washed away many public constructions and caused death and hardships to so many pilgrims and natives also affected the famous temple place of Kedarnath.
The Temple Committee of Kedarnath and Badrinath completed all the arrangements for regular pooja and other devotional performances in the temple of Kedarnath.  The daily ritual started with a group of 24 Archakas under the supervision of the Committee.
Although these devotional rituals are started today, devotees are not yet allowed by the police to reach the temple by road.