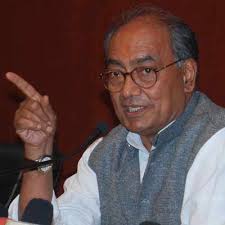 Telugu Desam Party President Chandra Babu Naidu comments on the AICC Chief Secretary and In Charge Political Affairs of the State, Digvijay Singh that he is thrown out from Madhya Pradesh and that is the reason why he is looking for a suitable place to live in the State of Andhra Pradesh by resorting to the political play by which he is only trying to divide the people of the State.
In his own words in twitter, "@digvijaya_28 thrown out of his own State Madhya Pradesh, searching for shelter in Andhra Pradesh by divisive politics".
Chandra Babu also tweets about the failure of the State administration particularly in providing power supply.  He commented that the Ministry of Power is not headed by any.  Now the power cut is 3 hours in Hyderabad, 6 hours in towns and 12 hours in villages.  He says that the people of the State are paying for the inefficiency of the Government and corruption.
"Power cuts in AP 3hrs in Hyd, 6hrs in towns & 12hrs in rural.  Power portfolio vacant.  People paying for Govts inefficiency and corruption"