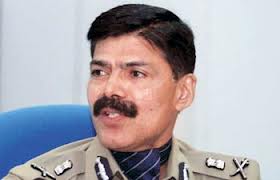 After three days stay at Hyderabad the head of Task Force Vijaya Kumar IPS deputed by the Union Home Ministry to study the matters related to the law and order situation at Hyderabad after the State bifurcation is done and the remedial measures to be taken bade good bye to Hyderabad today to leave for Delhi.
Vijay Kumar said that the task of gathering information, opinions and suggestions were concluded at Hyderabad.  He said that opinion from the police officials and others were taken on the distribution of police forces and strengthening of the Police Department.
As far as the fears about Maoists and other negative forces are concerned, Vijay Kumar Says, additional forces can be deployed at the time of need.
After the meeting with the Principal Secretary PK Mohanty, Vijay Kumar talked to the media representatives.  He said that the study is made to ensure law and order in both the States after bifurcation.  He expressed his confidence that Andhra Pradesh is working well in maintaing the law order situation in the State.  He said that the Task Force team has taken opinion from the senior police officers not only on the issue of Hyderabad but also on Naxals and terrorists activities.
Vijay Kumar said that the report will be made in two three days after reaching Delhi.