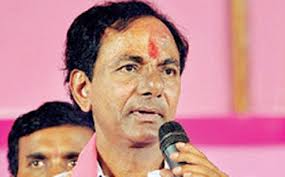 In yet another campaign for Telangana, the Telangana Rashtra Samithi president K Chandrasekhar Rao on Sunday called upon the people to wipe out the Seemandhra parties from Telangana.
Addressing a massive public meeting at Nizam College Grounds here, KCR said that no Seemandhra party would ever give the post of Chief Minister to a leader of Telangana region.
Making a specific reference to the TDP and YSR Congress party, he said that the parties want the Telangana leaders as their permanent slaves. KCR also accused the Congress party of betraying the Telangana cause again and again. He said Congress ignored and humiliated the Telangana sentiments.
Welcoming the entry of senior Congress leader K Keshava Rao, MPs Manda Jagannatham and G Vivek, KCR said that these leaders have tried their best to pressurise the Congress High Command over the Telangana.
The TRS chief slammed the Seemandhra media for floating baseless stories of leaders joining the party for "family packages" and appealed to the people to make 'Chalo Assembly' agitation a success by participating in large numbers.
KCR made a special appeal to the residents of twin cities of Hyderabad and Secunderabad asking them to support the Telangana movement and delivered a part of speech in Urdu language.