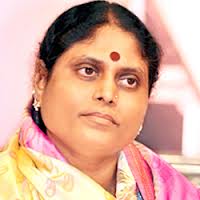 Guntur : YSR Congress honorary president Vijayamma launched 'Samara Deeksha", her fast unto death.
Speaking on the occasion she said the union government should keep the state united, if it cannot render equal justice to all the regions.
Addressing a massive gathering of party enthusiasts and Seemandhra agitators, Vijayamma charged the Congress government of resorting to dividing the state without any rationale just to pick up votes and few seats. She said a father when deciding on separation, should divide the property equally. "But here the father (Congress) has given ancestral house (Hyderabad) to one son and asked the other son to go out and find a house for himself (capital). "How can this be called justice? What would we say if this happens in our families?" she questioned amid thunderous applause.
She said her son and party president Y S Jaganmohan Reddy himself wanted to undertake fast in the jail itself. She said she advised him against it, fearing that the biweekly mulakhats would be stopped or he might be shifted to another jail in the pretext of security, if he went on fast.  she said she told him that she would undertake the fast on his behalf.
Vijayamma said amid cheers that her party would stand by the people and the government employees whose existence was now threatened.
Making a mention that 45 percent of the state's revenue came from Hyderabad, Vijayamma questioned how the Andhra state would be able to meet welfare schemes like Arogya Sri, subsidized rice scheme, pensions and fees reimbursement.
Talking about the irrigation problem, Vijayamma pointed out that the state was already facing acute water scarity as the neighboring Karnataka state was not releasing water down stream until it impounded river waters to fill its Almatti and Narayanapur projects. She questioned how the Andhra state would get water as the entire region was down stream from Telangana.
"How would they supply water from Kuppam to Srikakulam? How would they apportion Godavari water to Polavaram, which the union government declared as a national project?  How should the Seemandhra people live?" she questioned.
Vijayamma told the huge gathering that it was her party that has first responded to the genuine concerns of the Seemandhra people when all their MLAs had resigned. She said when there was no response from the government, she and Jagan had also resigned.
Vijayamma said no government would be able to withstand the anger of the people and assured that they could together make the union government bow down and respond to their concerns.
Vijayamma observed two-minute silence to pay homage to those who laid down their lives for the unity of the state before launching her fast.