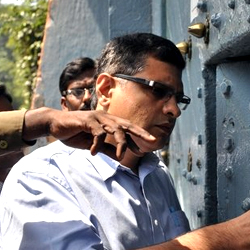 Khammam : Former Chief Minister Jalagam Vengala Rao's son Venkata Rao appears to be preparing to leave the YSR Congress.
Reports suggest that he has been unhappy with the treatment meted out to him and was consulting his associates about joining the TRS.
The discontent of Jalagam came to the fore during the pada yatra of Sharmila. When Jalagam's followers raised slogans hailing him when Sharmila was speaking, she became angry, abruptly stopped her speech and went away. This incident caused distance between the YSR Congress leadership and Jalagam. While YSRCP leaders feel that it was improper on the part of Jalagam's followers to hail him instead of Sharmila, Venkata Rao is feeling that he was not getting due importance. Meanwhile, TRS which has been looking for strong leaders, is throwing the bait for Jalagam, as he is a leader with grip on Khammam politics. TRS is weak in Khammam.
Jalagam Venkata Rao was in Congress. After Renuka Choudari entered Khammam politics, she cut down the importance of Jalagam's family. TRS is also of the view that entry of Jalagam would help strengthen the party in Khammam district.