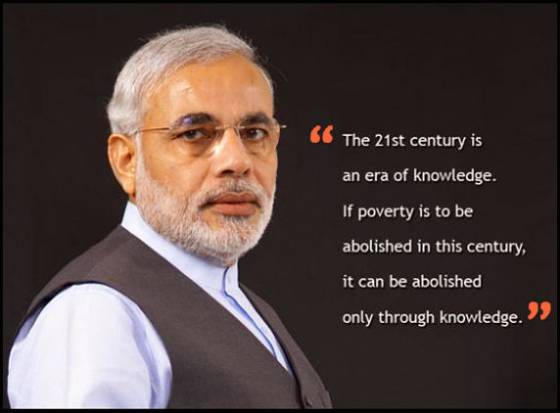 The absolutely prominent news was known from senior party leader Murli Manohar Joshi who told newspersons in New Delhi during Friday, that Gujarat Chief Minister Narendra Modi will be the BJP's prime ministerial candidate.  He expressed even though there are possibilities of several differences, all leaders are on the same page on the issue of Modi. Furthermore, a formal announcement is anticipated subsequent to the BJP parliamentary board meets at 5.30 pm. So what, firecrackers as well as pundits are in ready steady go mood for an evening of celebration and poojas.
Immediately after Joshi's statement, special festivities overpowered in Delhi and Mumbai outside the BJP offices. On the other hand, Advani's residence in Delhi wore a deserted look. Modi arrived in Delhi in the evening and he is apparently destined to meet Advani ahead of the meeting. Accompanied Modi name coming into exposure, the instance of isolating of senior party leader L.K. Advani would be concluded. It was known that the senior leader who established the party today finds himself lonely and isolated. All though BJP leader Nitin Gadkari expressed that Advani would be attending the Parliamentary board meeting. While  sources close to the veteran leader disclosed that he won't be present in the meeting.
Digvijaya expressed that the country will never accept Narendra Modi!
Advani known to have cherished the name of Modi to be exposed subsequent to the Assembly elections in November. Advani had kept in a specified state that naming Modi will give the Congress as well escape route from all the scams and corruption charges. In the morning, a host of senior leaders met BJP veteran leader L.K Advani in an effort to win over him on declaring Narendra Modi as the Prime Ministerial candidate. Party leaders Nitin Gadkari, Ananth Kumar and Sushma Swaraj were at L.K. Advani's residence to influence him on the issue.
Sources said party president Rajnath Singh has decided to go ahead after holding consultations accompanied by the RSS top leadership, including General Secretary Suresh 'Bhaiyyaji' Joshi and Joint General Secretary Suresh Soni. According to sources, Joshi had met Advani during Thursday to influence him. Nevertheless, Advani is said to be uncompromising in his stand against Modi and has conveyed to the party that making him the PM candidate will divert attention from BJP's core issues against the Congress like price rise and corruption. He expressed his feeling that Modi would Modi become the issue if he is made the PM candidate.
Even a party leader said that Advani recommended yesterday that the BJP chief ministers should also be consulted on this issue.  Leader of the Opposition in Lok Sabha Sushma Swaraj and senior leader Murli Manohar Joshi also have reservations about Modi's candidature and have suggested that an announcement should be made only after the forthcoming assembly elections to Madhya Pradesh, Chhattisgarh, Rajasthan and Delhi. BJP colleague, Shiv Sena on Friday supported Narendra Modi as NDA's PM candidate. Shiv Sena leader Sanjay Raut said the BJP-led NDA would gain victory in the 2014 general elections if they contest it under the leadership of Gujarat Chief Minister Narendra Modi. Raut expressed in an exaggerated manner that they would undoubtedly gain absolute victory if they engage in battle under the guidance of Narendra Modi.   It has also come into prominence that yesterday Uddhavji (Uddhav Thackeray) talked to Modiji, and also expressed pleasure to him. There would be absolute acceptance from their side if  Modi is publicly acknowledged as the PM candidate.