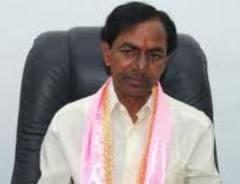 Hyderabad: TRS Legislature Party leader Eetela Rajendra and MLA T Harish Rao have caused sensation on Tuesday by alleging that a plot to murder the party chief K Chandrasekhara Rao was being hatched.
Talking to the media, they said they had information that a 'Supari' (murder contract to mafia) was sought to be given. They said they had passed on all the information they had to the IG of the Intelligence and urged the police to provide Z Plus category security to KCR.
Stating that they knew who had offered the 'Supari' and to whom, the two TRS leaders said now it has become clear that the Seemandhra business people would stoop to any level to liquidate KCR and to stall Telangana.
Stating that KCR was not an individual, but the reflection of the aspirations of all the people of Telangana, they said they all had a responsibility to save him. Warning that the consequences would be very serious if something happened to KCR, they said the government would have to take total responsibility for all the consequences.
The leaders said there were threats earlier also and that they had themselves provided security to their leader then. They said they now felt that it was important to share the information with the people as they had been receiving constant threats.