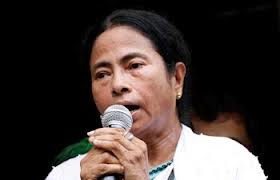 Kolkata : Condemning the Congress-led United Progressive Alliance (UPA) for endorsing statehood to Telangana, West Bengal Chief Minister Mamata Banerjee Wednesday dubbed the decision as "divisive politics".
She has written to Prime Minister Manmohan Singh asking for reasons behind the decision.
"I have written to the prime minister asking whether the decision has been right or wrong," Banerjee told reporters at the state secretariat here.
The Telangana decision has created fresh unrest in the north Bengal hills with the Gorkha Janmukti Morcha calling an indefinite shutdown to press for creation of Gorkhaland.
"I am not averse to Telangana, it is their prerogative. But what if other states start making similar demands? Will the Congress allow all these demands and break the country into pieces. It is most unfortunate for the country when those who have responsibility behave irresponsibly," Banerjee said.
"Why has this decision been taken at a time when the general elections are approaching? The Congress, in its manifesto five years back, had committed about Telangana formation, but why has this decision been taken now when the elections are knocking on the doors? Simply because it will add a few more seats? They don't know whether they will win those," she said.
"I condemn this attitude and am shocked at the decision. For political purpose and vendetta, our constitutional obligations should not be jeopardised."
The Congress Working Committee Tuesday passed a resolution after the United Progressive Alliance's co-ordination committee endorsed statehood for Telangana.
Following the decision, demand for creation of new states have become shriller from various parts of the country, including West Bengal.