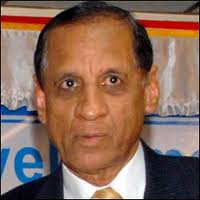 Andhra Pradesh Governor E S L Narasimhan is leaving for New Delhi on Saturday again, supposedly following an emergency call from the Congress bosses.
This is the second visit of Governor in the last two weeks and this has led to intense discussion in the media circles as to whether the Centre is going to take any important decision on the state political situation.
The Congress high command has already been holding hectic deliberations with leaders from all regions on revamping the party and the government, besides the Telangana issue.
Interestingly, the itinerary of the Governor has been kept a closely guarded secret. As such, there is no information as to who he would meet in Delhi. The only information is that he would be in Delhi till Monday evening.
The Governor is expected brief the Centre on the latest developments in the state including controversy over release of Krishna water to the delta region. The Centre might also seek a report on the possible law and order breakdown in the event of any decision on the Telangana region.