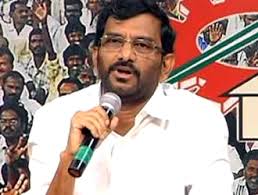 TDP seemandhra leaders are crying out that the formation of a separate Telangana is neither ethically not legally valid. They say that a state can be bifurcated only after the parliament gives its approval. TDP senior leader Somireddy Chandramohan Reddy told media that congress is not right to split the state.
The leader questioned whether the high command met with Union Home Minister Sushil Kumar Shinde and Digvijay Singh to discuss up on the issue of bifurcation.  Similarly, other Seemandhra leaders are also crying hoarse that the bifurcation is not being carried out ethically.
Meanwhile, TDP chief Chandrababu Naidu is said to be stable, recovering from jaundice. TDP Telangana leaders are waiting until he recovers, so that they can pounce on him with burning questions. One of the questions is about how the chief has been dilly dallying over his support for Telangana.
Chandrababu Naidu's 5 day fast may have drawn the attention of the national media, but the manner in which TDP has no clarity over bifurcation has confused many. Telangana supporters in his own party are of the impression that he should have made his opinions more clear and that the party is not anti-Telangana.